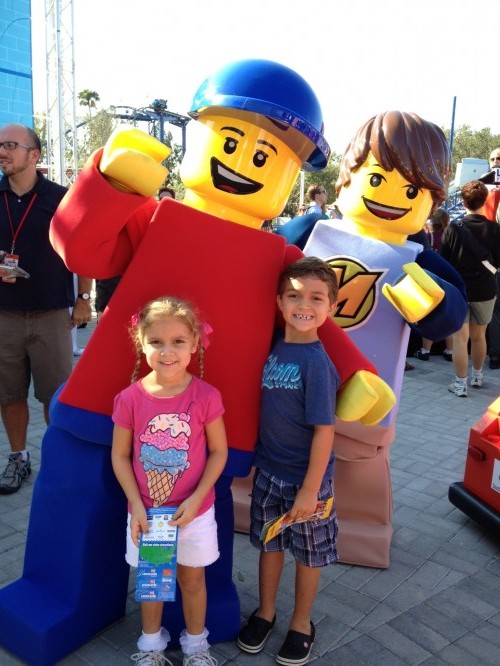 When I saw that Legoland Florida was opening in Lakeland a year ago, I knew that eventually we would end up taking a trip. We were in Chicago this past summer and went to Legoland Chicago. I was honestly not too impressed with it. (Sorry, honest opinion.) I had looked at the Legoland Chicago site and it was pretty impressive. I got the kids all excited and we went with my Mom, who was brave enough to help me with all 3 kids. We had a $20 off coupon, which was the only reason we really ventured to Shamburg in July. It made a big difference in how much we paid to get in with 3 kids and 2 adults (thanks Facebook for hosting the offer and Twitter for how I found out about it.) The Legoland Chicago was in a "Wiregrass Mall" type setting (for all of you who live in Tampa, this will make sense.) It was basically a BIG store with a few rides. In the summertime, they had "camps" and the place was FULL of kids with little supervision (let's just say a ratio for 1 adult per 10 kids it looked like). The lines were super long and the rides were "kind baby" according to Jake. But we had fun, the kids liked building with the legos and eating over priced pizza and seeing what others had built with the leogs (Jake LOVED seeing all the cities built out of legos. But I wasn't to impressed and really glad that I didn't pay too much money to get in.
So on to Legoland Florida. After watching the You Tube video the night before and thanks to a very generous offer from WTSP News Channel 10, we found out we would be going on "press day" the day before the Grand Opening. From my perspective…THIS. WAS. AWESOME. For so many reasons. Few lines. Less people. Not crowded. Can you tell I'm not a "theme park mom"? We have Busch Gardens annual passes and we venture to other places here and there, but I am ALL for off days and little crowds. So here in my honest opinion is what I thought and why (I am not being paid by anyone and these thoughts are my own. I did get free tickets to the park from WTSPand you can see some of their pictures here. Just incase anyone is wondering…)
1. The price sounded kind of high…at first. I honestly looked at the price and had to do a double take. It was, in my opinion, kind of expensive ($75 for adults and $65 for kids… plus tax). But if you live close enough, and you will go 2, 3 or 4 times throughout the year, it's totally worth it. I'm not a crammer. I like to enjoy the park and know that if we didn't get to do it in one day, we will come back (gives me an excuse as to why we can't do something when someone is melting down and we have to leave any park.) But after seeing what Legoland Florida had to offer, I do think that the price is worth paying and very worth the upgrade to an annual if you live close enough. And do yourself a favor, buy at least one person in your family the "plus" admission so you aren't always obligated to pay for parking, another $10+ per visit if you go often. (If you are a grandparent, they do have Senior rates too!)
2. If your kid loves Legos, they will love this park. The park was beautiful. They incorporated Legos in to everything! If you have a Lego lover, they will be impressed. I was!
3. I think that there is a window when kids will not want to go anymore. I think that my kids ages 7, 5 and 2, will love this park for about another 4 years. I think after that they will have done it all and want more of a thrill. And there's nothing wrong with that. I love that we will be able to take full advantage of this park because we are at the right age. Perfect. And hopefully they will remember how much fun they had there and will come back when they are older.
4. The rides were perfect for kids ages 5 to 10/11…12 might be pushing it. I loved the fact that my 1st grader could ride everything. 48″ was the magic number and the rides weren't that scary for him. He rides most things at Busch Gardens, and had lots of fun on the coasters at Legoland. (I think that I screamed louder than him on a few, but we had a really good time. It's nice to not have to say you can't ride that. I liked that they geared the rides toward the early elementary schooler. Mia was a little more timid so she didn't ride, but she did have the option and I liked that too!
5. It was a very clean park. The Red Rover App people would be proud. Clean bathrooms and changing tables. Cleanliness is important to me. I like things clean. (Hope it stays that way!)
6. There was alot to do and see for a fulls day worth of fun. With shows, 4D movies, things to build in the air conditioning and rides to ride, I would say that one could easily spend the ENTIRE day (much like most theme parks) and have a blast. I'm not big on "pushing the envelope" with my kids, but they were pooped by 3pm and I know that we will be back so we left with out doing everything. Now we have a reason to go back!
7. 48″ is the key number (36″ plus one parent is necessary) Because Jake was JUST tall enough, it made my afternoon much better to know that we could all ride the rides together- Jake by himself and myself with Mia. Jake was JUST barely tall enough. If not, I would have had a much harder time trying to figure out what to do with 2 kids needing me, the single adult on our trip, to ride a ride.
8. The food and drinks were not over priced! Yeah! I was impressed that everything there was not SO over priced. I paid $2 for a water, $3 for a hotdog and $6 for a slushie (with a take-home cup!) and $2 for an ice cream! NOT BAD! I don't think coolers are allowed in the park and there were restaurants one could dine at. (The pizza in the media tent was pretty good too!) So thumbs up not having to spend a small fortune on food and beverages!
9. There's actually alot to LEARN from Legos at Legoland. I didn't feel AS bad about pulling Jake and Mia from school to go to Legoland, because I feel that when kids play with Legos, they are learning something. It's imaginative play and some of the rides at Legoland Florida will actually give you a workout too! You can learn about gears, levers, pulleys, what makes buildings tall and more. I really like that they have learning experiences based on ages, so I do think that this place would be a great place for a field trip too! Here is where you can find out more about their field trip programs.
The You Tube video had done a great job of capturing what we would be seeing. It was all true. So bottom line, I like the park. I thought it was pretty neato. The kids had a great time and I know that we will come back and start back where we left off. I think it's worth the trip and I am sure that everyone should keep an eye out for deals and specials. The Legoland Florida Facebook and Twitter pages are pretty active and might have specials. When you find one, jump on it! (I missed the AAA special and I think that there was a Florida teacher special too.) There is also an "unofficial" guide to the park here too.
And if you want someone else's opinion, I know that some of my Twitter friends also came on Media Day and have reviews posted too: @ThemeParkMom, @WhoaMomma and @MinneMom So check them out too! (They are more seasoned reviewers than I, so you might want to check them out too!)
Nice job Legoland Florida. This Mama is glad you're here!