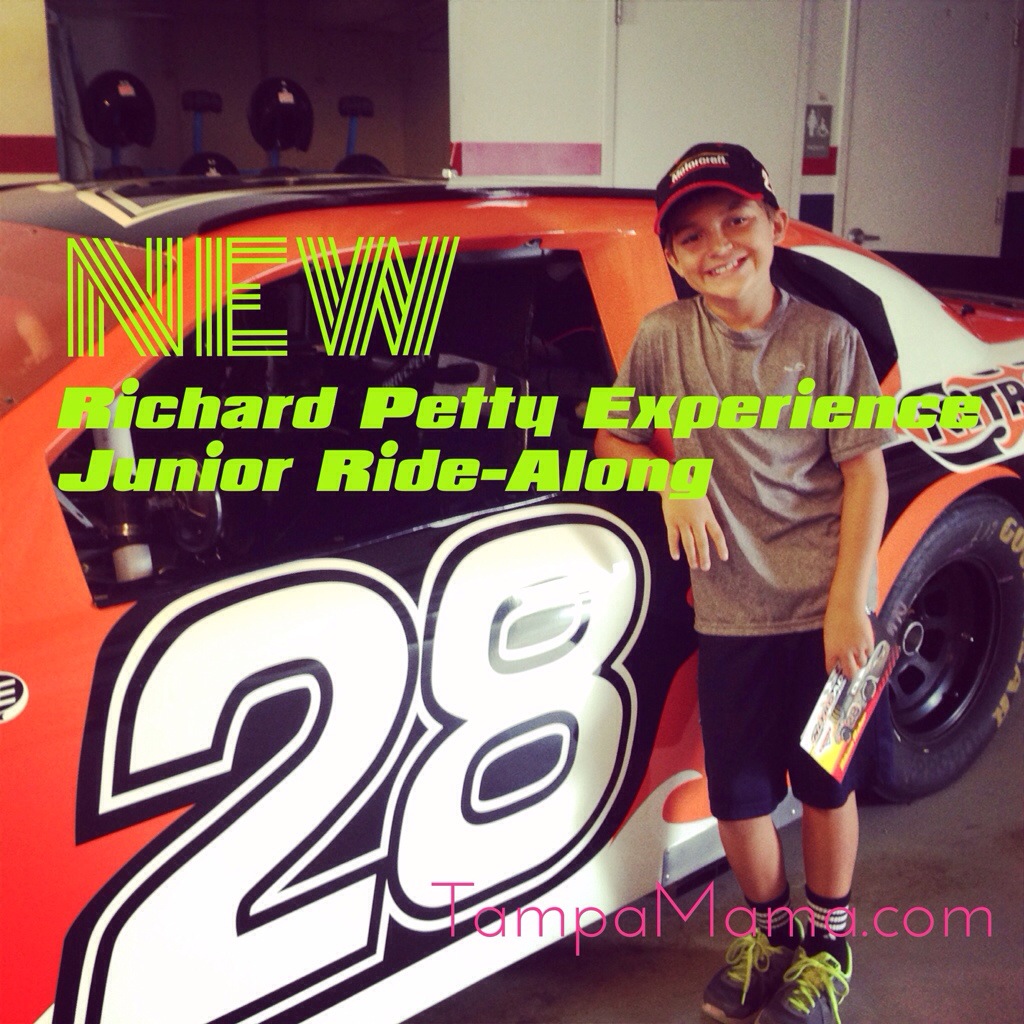 "Is this your first time in a race car?"
This was the first question my son asks the VERY experienced driver about to take him on the ride of his life.
"Nope. Not my first time." (I was hoping he'd say yes and see how my would react.)
I about died laughing! I was replaying this amazing experience at home last night, and watched it from my nine year- old sons perspective of what it was like to drive in a 600 horse power NASCAR race car at the Richard Petty Driving Experience for a Junior Ride-Along.

My son and his Dad are HUGE NASCAR fans and the movie Cars was actually his first movie on the big screen. We had been to Daytona Speedway and have seen the real thing up close, but haven't ever risen in a REAL NASCAR race car.
I was very impressed with the whole experience. From cost value to experience, this is definitely one I would recommend, especially if your child is a Cars movie fan!
With a little planning, you'll have an awesome afternoon and lots of memories to go home with.
After meeting Jay Ward, who was one of the art coordinators, characters manager, and an additional voice in Cars, this couldn't be a more perfect marriage to bring the movies to real life! Jay is considered the guardian of the Cars franchise due to his in-depth knowledge and love of cars. He has been actively involved in this partnership and was there to help launch it to the public.
Today on June 14th, over 5 years in the making, Pixar Animation and Petty Holdings,LLC, will launch this Junior Ride-Along at 4 NASCAR experience tracks, one being the Richard Petty Experience at Walt Disney World in Orlando, Florida. They will finally unveil a perfect marriage for bringing the 'Cars' movie, and a few if it's characters to real life! Two 'Cars' characters, number 80 from team Gask-its, VanDerSpin, and number 28, Aiken Axler from team NitroAde, will compete for the Piston Cup with junior racers in tow.
With speeds over 100 MPH, professional drivers, and safety features that will have every parent feeling warm and fuzzy, kids are going to have the time of their life!
A few details that I'd like to share so you are aware of how this works:
And for ALL the details and more about THIS experience, visit:
for details, discounts and more for family travel!
You must be 48 inches tall. No matter what.
You must be between the ages of 6-13. 14 year olds will have to possibility of riding in the real experience if other requirements are meet.
No reservations allowed. The track and store opens at 7:30 am which means you have the chance to be first on the list to drive at 9:30 when the actually start ride-alongs.
INSIDER TIP: Call and make sure that you know what types of cars they will run that day BEFORE you head to on over. They run exotic cars and stock cars, so some days the Junior Ride-Along will not happen so plan accordingly!
It is first come first serve for this Junior Ride-Along. You may buy tickets online at DrivePetty.com, but must show up in person to get inline and wait to drive in the car.
The cost of one child is $59-69, depending on the track. This Junior Ride-Along Experience is only available at Daytona, Kansas, Walt Disney World Orlando or Charlotte Moror Speedway.
Three laps are included. They will video tape your experience which can be purchased as a souvenir.
Special arrangements can be made for group functions (contact the speedway directly.)
Both race cars for this Junior Ride-Along Experience are specially equipped NASCAR race cars. Your child will ride shotgun with a professional driver.
All kids are outfitted with a race suit, a fire proof sock for under their helmet and a junior HANS device. Must wear close toed shoes.
Adults may not ride in these cars as the safety devices are not removable.
If you don't want to ride, or your little one isn't big enough, yet, make a pitstop to the track and watch them in action! Very cool and most definitely worth the trip!Boys, girls and 'Cars' fans alike will LOVE this experience! Definitely make a out stop and check it out the next time your visiting Disney World.
Disclosure: I was provided the opportunity to experience this program at a free or reduced cost. All opinions are my own.