Dreaming of a white Christmas…in Florida? Long shot, right? Well, maybe not…
Moving down to Florida from Wisconsin when I turned 13 was devastating to me during the holidays. It wasn't Thanksgiving with 80 degrees and lots of sunshine. It surely didn't feel like Christmas in shorts either. I have never truly adjusted to not having a white Christmas in Florida, but with kids, this is the only holiday they know, so it's up to me and Chance to make it "feel" like Christmas this time of year. I have mastered a few tricks that work for us to get the kids in the holiday spirit.
Finding The Typical Christmas Memories
While there is typically a slight chill in the air, it's the snow, the ice skating, the hot chocolate, the cookies, the carolers and of course the Christmas trees and music that give kids (and grown ups) a sense of holiday happiness. For me, this is the first year that Christmas actually felt like Christmas. It has always been difficult to feel like it is "the season" when it's 80 degrees outside. But this is what my kids know. They didn't grow up with snowbanks to climb at school, snow days or a white Christmas. I have learned to adapt, but I hope that the snowy holidays I can show them will get them in the spirit too!
So what if I REALLY wanted them to experience what a Snowy Holiday in Florida? I have just found the answer.
1. Experience Kissimmee. Just go. You won't regret it.
Last year, was my first time visiting Kissimmee and we had really just stumbled upon all that Kissimmee had to offer. We only went to the Gaylord Palms, but now that we know there is so much more is happening, we are sure to make this an annually trip (or trips) to experience a fun day, night or weekend that will become our snowy holiday tradition each year.
2. Spend an evening (or a few nights) at Gaylord Palms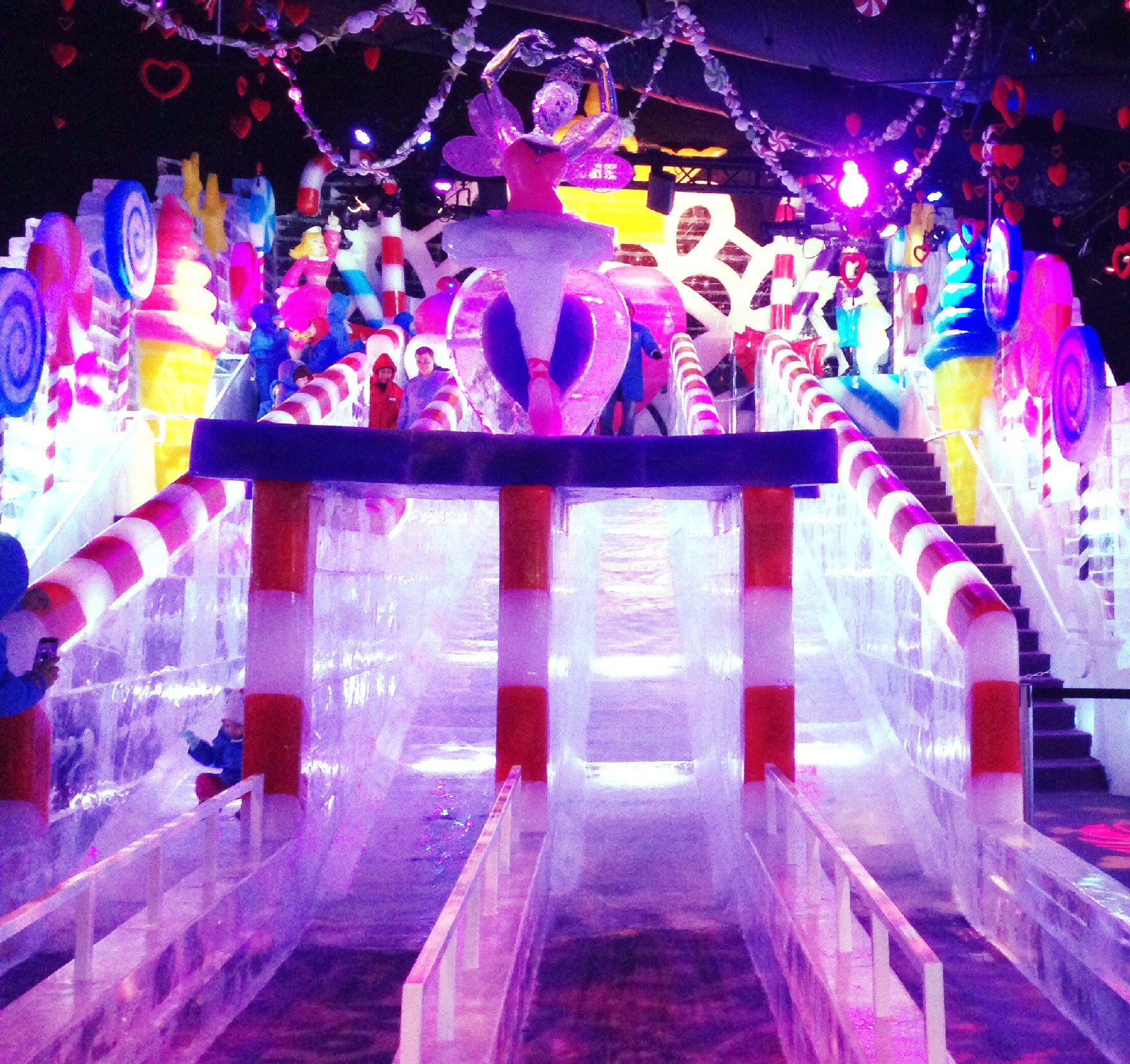 My parents were down from Chicago in November last year and we decided to stay at the Gaylord Palms Resort. We had never been so we were all so excited! I had heard about ICE! but didn't know what to expect there either. We had the time of our life and experienced Christmas like never before. We had such an amazing time with all they had going on for Christmas that it's now a tradition that we go back each November or December, even if just for the day (but a few days is so much better!)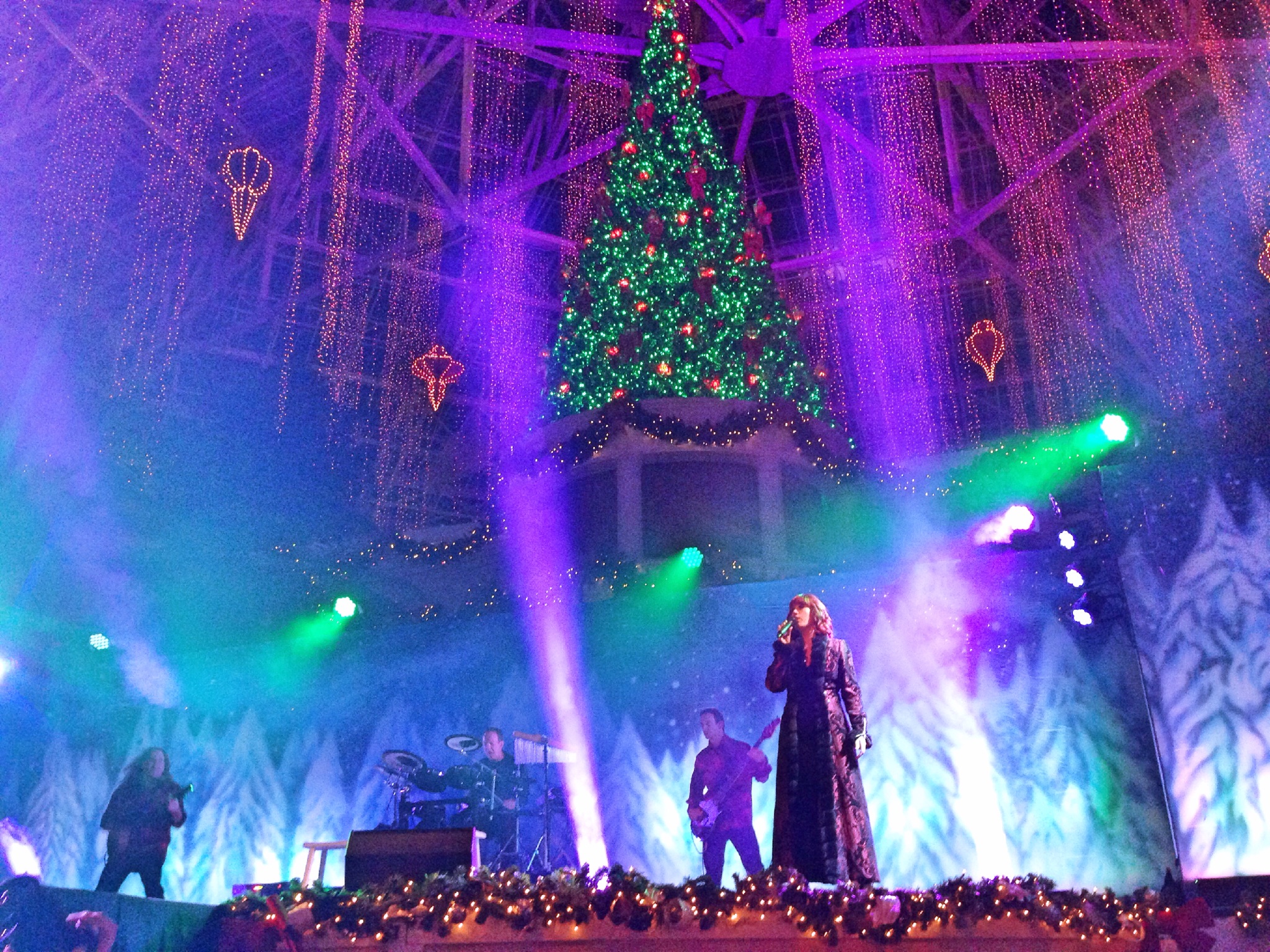 So much happens each year on their property. Decorations, the show, the ICE! exhibit, Gingy's House, seeing Santa are reasons to come over and enjoy a holiday get away. The show…THE SHOW. In their lobby each night is a free show that rivals any holiday show I have paid for. Combine aerialist, music- the Luminscent band, the Orlando Ballet plus all their holiday light on display and what you have is wrapped up into the best 30 minute holiday show you'll ever see. It happens nightly in their atrium and is a show you must see. The music is heavenly and the visuals that accompany the show are just stunning. Did I mention it's free? If you are only there for an evening, pay the valet fee, come in for dinner at one of their amazing restaurants and grab a seat at the show. Then head over to the ICE! exhibit and head home for the night. If you are staying, be sure to check out the Florida Buzz Report for some great deals at the Gaylord Palms.
And what exactly is this ICE! exhibit I'm speaking of? Each year, over 2 million pounds of ice is hand carved and put on display where spectators are able to marvel at the intricate sculptures carved by the
3. Visit Mickey's Very Merry Christmas Party
Of course Mickey knows how to throw a Christmas party! And what a Christmas party it is! The lights, the decorations, the shows, the Christmas parade and the Cinderella's castle! This year, the show blended a Frozen theme with their show and the lighting of the castle was actually Elsa icing the castle. Olaf, Anna and more Frozen cast members were on hand to help Elsa let her powers go! Pure magic! Mickey's Very Merry Christmas Party does require an extra ticket to attend. You can enter the park at 4pm and stay past midnight. There are only a select few weekends that this happens and once tickets are gone, that's it. In addition to being open for later hours, because there is only a certain number of people who are able to attend each night, the lines are definitely shorter as there isn't a great number of people inside the park. We had an amazing time at Magic Kingdom and will definitely be back to celebrate the holidays with Mickey.
For more information on Walt Disney World Mickey's very Merry Christmas Park visit the Trekaroo blog.
4. Stop by Celebration for a Snowy Night
Just outside of Disney World itself is the town that Disney built. You might not even know it's there. Celebrate in Celebration as kids will play with faux snow, ice skate (on synethtic ice in 80 degree weather) or have a holiday dinner at the Columbia restaurant. Each night, starting at 6pm, the town square in Celebration becomes a place for carolers and families looking to celebrate the season. Take pictures in front of their Christmas tree for your holiday card or just stroll around the quaint shops complete with whimsical Christmas window decorations. Time seems to stand still here and maybe it will for you too while you celebrate the season.
For more on Celebration and their Snowy Night Celebration visit the Trekaroo blog.
I've realized over the years that it's not just the snow that evokes my Christmas memories, but more about the traditions my kids will remember to bring their childhood to life during the holidays. But yes, because I grew up having a mostly white Christmas, it's so fun to visit these places that help to bring me back down to memory lane, while creating fun memories for my kids.
Plan your trip to Kissimmee to see these Snowy Holiday events by reading more about them on Trekaroo.com.
For more information on a Snowy Holiday in Kissimmee, here are a few links:
The DadScribe Blog
Fun and Frugal Mom Blog
JonahBonah Blog
Disclaimer: I was hosted by Experience Kissimmee to experience these activities. All opinions are my own.