Kids screaming. Baby crying. Homework is coming out of your ears. Laundry is to the ceiling. Girl Scout badges need to be sewn on. Grocery shopping needs to be done. The house needs a super deep clean. Better start filing taxes… And on and on the list goes. I get it. You need a break. We all do. A night. Take three hours. To relax. Enjoy your significant other or even a friendship. Just an escape. Even a three-hour break each week can immensely improve your mood for the other 165 hours I need to be on the clock.
Great. Got the night off. Now, where to go? You haven't been out in a while. Your lunch date consists of a toddler who thinks your box Mac n 'Cheese is AHHHH-MAZING and typically orders a double milk with every meal. You have heard of all these new "fancy" restaurants that are happening in Tampa Bay but have no clue where to start. Let me help you out. Here are my 5 reasons why Ulele is the ultimate date night location in Tampa.
Welcome to Ulele!
What does Ulele mean to food (from their website): Ulele (pronounced You-lay-lee) celebrates the vibrant fusion of ingredients from Florida waters and land once home to many Native Americans, including the young princess Ulele. Expect intricately flavored, visually appealing dishes prepared on the 10′ diameter barbacoa grill. Here is why we would visit:
1. Ambiance
Located on the Riverwalk in Tampa Heights (just north of the Downtown skyline) you'll find the gem, tucked away, on the Hillsborough River. You might have driven south down Tampa Street but never stopped, turned right and see what undiscovered beauty lies down by the River, just north of the city . You'd be amazed at the work the City of Tampa and great organizations such as the Tampa Riverwalk project, are doing for our community. Revitalization of buildings like the old Water Works building, are bringing new life to urban neighborhoods and new people are interested in coming out to play. New places, like Ulele offer an evening of good food, great beer and a fun atmosphere to really live it up in Tampa, and Ulele will have you wanting to come back for more.
2. Food
The main reason one visits a restaurant is for the food. But all other factors do play a role. Ulele has it all. Not only are they starting to get a reputation as on of THE places to dine in Tampa Bay, but their native inspired food and beverages are the reason that people will keep coming back for more. Fresh from Florida seafood, meats and crops will always please. And with recent "foodie" awards from OpenTable and Golden Spoon, the food can do the talking by itself. If you'd like opinion on what I would order when I return (and I plan on returning many times) here is what I'm having:
What I Would Order:
Starting off, I am having a Wedding Beer, brewed by Tim who says his best recipes only have 4-5 ingredients. This beer is a fruit lager, brewed with a blend of red and blackberries, blueberries. Delightfully fruity, with a delicate, tart finish. Scaled back. Simple. His brewing history is long and deep and he knows what he's doing. The only place to get Ulele beer is at Ulele, so when you visit, you must partake.
We are starting off with the most amazing Gulf Charbroiled Oysters that I have ever had! Barbacoa-grilled, with garlic butter, grated Parmesan and Romano cheeses. These are TO DIE FOR.
For the next course, we will be ordering two entrees along with an additional side. The fresh fish and seafood from the Gulf of Mexico and coastal waters has us lusting for the Grouper Ulele- charbroiled, stewed vine-ripened tomatoes, basil, lemon zest, garlic and olive oil. And a side of Crab Mac & Cheese Four-cheese-Ulele light beer sauce, fresh lump crab meat blended with seashell pasta topped by a Parmesan Romano crust. He's having the 10 oz. Filet Mignon (wet-aged 28 days) along with a side of White Cheddar Popcorn Mashed Potatoes Russet potatoes with white cheddar, roasted garlic and leeks, topped with popcorn.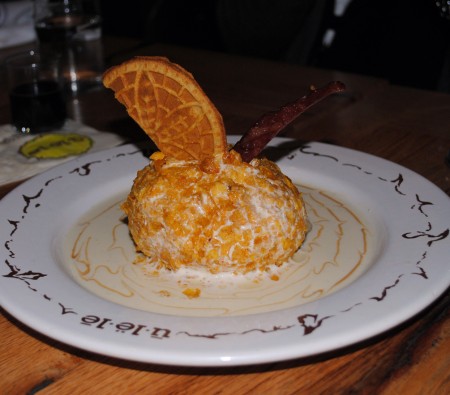 And weather we have room or no, the Candied Duck Bacon Maple Fried Ice Cream WILL be ordered. Cinnamon corn flake candied duck bacon crust, Knob Creek crème anglaise, caramel, sweet potato waffle crisp. You have not lived until you have had this dessert.
This is what I'm ordering…what are you having?
3. Uniqueness
With a menu derived from the "localviores" that settled in Tampa, your meal is not only a tribute to Tampa history, but and experience. With items like Native Chili-Alligator, wild boar, venison, duck, ground chuck, cranberry beans and chili spices and Florida Jumpers Fresh Florida crispy fried frog legs, sherry garlic aioli and Country Fried Quail Semi-boneless with pineapple datil mustard, watercress and pecans, your taste buds will travel South for an experience unlike one you will find anywhere else "up north." If you are visiting, you'll tell others about Ulele and how amazing it was.
4. A Perfect Couples Dinner
Looking for that place to celebrate with friends? Look no further. My friends and I are always on the look out for a fun place to go with a group of people. We want a fun atmosphere as well as great food. The beer garden and roof top patio are perfect places to meet up with friends and share a Ulele beer, because you can't get this been anywhere else in the city. Brewed with simple ingredients and super fresh, you'll enjoy everything about being at Ulele. Come early and sit in the bar and enjoy the oyster special (hold on…we will get to that) as well as some unique hand-crafter cocktails like the Water Works Sunset or Native Summer. Watch the sunset during dinner and take a walk through the beautiful Water Works park. A night to remember…
5. Tips for the Rookies Dining at Ulele
We picked up a few insiders tips for you while talking with our waiter and hosts for the evening. I always love to talk with the staff of any restaurant, as they are always in the know of the best "way" to do things. Here's what we would do if we were you:
Make a reservation a few weeks out or at least two weeks in advance via OpenTable .
Stop in between 4:30-5:30 for oyster happy hour- at the bar and community tables only. Half shell oysters with fresh horseradish and cocktail sauce are only $1 per oyster. And these might just be the best oysters you have ever had.)
If you happen to be bringing kids, there is a "kids menu" but we think they will also enjoy many of the "adult" menu items as well (who doesn't like popcorn in their mashed potatoes!) If you are bringing kids, you might opt for a patio table that is next to the lawn, overlooking the River (LET THEM PLAY WHILE YOU WATCH)! Lots of space to let the kids run while adults can dine and keep an eye on everyone. The homemade ice cream will top off their night after some corn hole on the patio too.
The beer garden and roof top patio are perfect places to meet up with friends and share a Ulele beer, because you can't get this been anywhere else in the city. Brewed with simple ingredients and super fresh, you'll enjoy everything about being at Ulele.
Overall, the restaurant speaks for itself. From food to atmosphere, you'll enjoy your night on the town with a visit to Ulele. Having lived in Seminole Heights, just north of Tampa Heights, it's been wonderful to see locals unearth the culinary gems and shared with world travelers who are visiting us and might only come to our city one time in their life. This is the place I would take some one. They will truly enjoy everything.
This review was sponsored by Ulele and brought to you by the Tampa Bay Blogger Network.
Feature Image By: Flickr.com/photomatt28