I'm always up for an adventure…especially if it involved food & wine! And on a beach!? Now you're talking! It's time to leave the kids at home and take a date night to the annual Clearwater Beach Uncorked Food and Wine Festival. Sound like the perfect place to date night!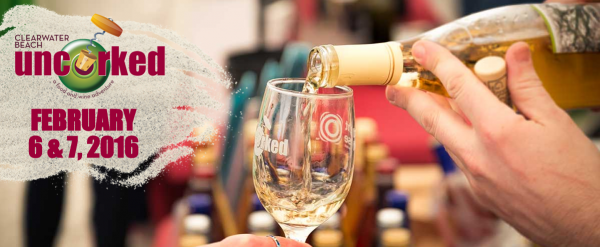 Wine in your hand, toes in the sand. Celebrating 5 delicious years on Clearwater Beach. There's no better way to experience the seduction of pre-Valentine's Day decadence than by exploring the delicious facets of Clearwater Beach Uncorked.
Clearwater Beach Uncorked, touted as the hippest beachfront gastronomic event on Florida's west coast, is your ticket to unwind and wiggle your toes in the sugar white sand while enjoying the finest fare and wines this side of fabulous. Enjoy this weekend of world-class food, wine and microbrews while tantalizing your taste buds and soothing your senses. Stay for the weekend and enjoy an exclusive pre-Valentine's Day VIP rate at the Hyatt Regency Clearwater Beach exclusively for guests of Clearwater Beach Uncorked. These special room rates are limited so book early and extend your Valentine's celebration over two weekends. A percentage of ticket sales from the event will benefit the University of South Florida School of Hospitality and Technology.
FOOD, WINE, AND BEER SAMPLING IS ALL INCLUSIVE IN THE TICKET PRICE.
Have fun and be safe!! Uber is the best option if you've even had 1 glass of wine.
In St. Pete/Clearwater, first-time Uber riders can get a free $20 ride by using code VISITSPC. Drink responsibly. Don't drink and drive.