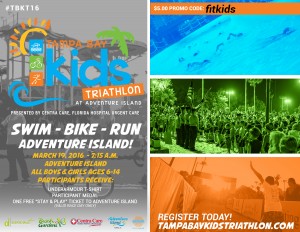 When I was 9, on a Saturday morning, I was watching cartoons. My kids have inspired me in so many ways, and their determination to train and participate in a youth triathlon is one of the many.
The Tampa Bay Kids Triathlon is back and is just one short month away. We have participated each year and will be again.
Kids triathlons are the new sports for kids these days!
Over 300 kids came out bright and early to race and compete. It's such an amazing experience! Lots of people ready to help and everyone wanting the kids to succeed and cross that finish line. I hope I'll see you out on the course!
Mark your calendar! March 19th is around the corner! You still have time to train!
DISCOUNT CODE: Register here using the code FITKIDS and save $5.