A Chinese proverb states that if you give them a fish, they'll eat for a day. But if you teach them to fish, they will eat for a lifetime. I feel the same way about cooking. Teach them to cook and they will eat for a lifetime!
We like to eat good food in our house. My husband and I love to cook. We are some what adventurous. We love watching cooking shows and are often looking at new ways to cook foods for the family. We also LOVE to cook with our kids.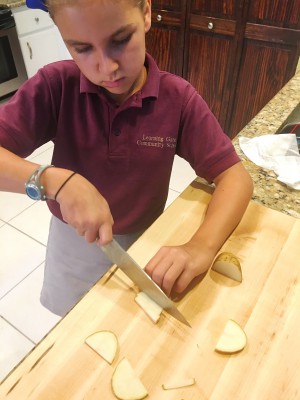 Neither of us are 'classically trained chefs', so when I recently had the opportunity to learn basic knife skills from a professional chef for an afternoon at the Epicurean Theater, I jumped at the chance. The class was being hosted by the Idaho Potato Commission and The Sunday Supper Movement. We are big fans of eating supper together on Sunday's and most nights of the week and I've never met a potato I didn't like…especially one from Idaho.
The Epicurean Theater is located in South Tampa inside the Epicurean Hotel, and has a beautiful classroom made for cooking demonstrations and culinary students wanting to learn the art of cooking. We also were treated to lunch at Elevage. It was the perfect afternoon to learn to dine and learn. Learn that I had been doing it all wrong for years. It was also an afternoon that inspired me to want to learn more in order to teach my kids more. The more I know, the more I can pass along to my kids. And maybe they will pass it along to theirs.
Idaho Potatoes are a staple in my house. My Brother In Law jokes that our kids live off of potatoes. We eat them mashed, boiled, baked, scalloped, chopped, hashed and the list goes on. We love them with toppings and just a little salt.
One of the most important take aways I learned was HOW to hold a knife. When you really think about it, this is a skill I'm ALWAYS doing in my kitchen. Cutting onions, carrots, apples or potatoes. Watch this demo of how to hold a knife property's.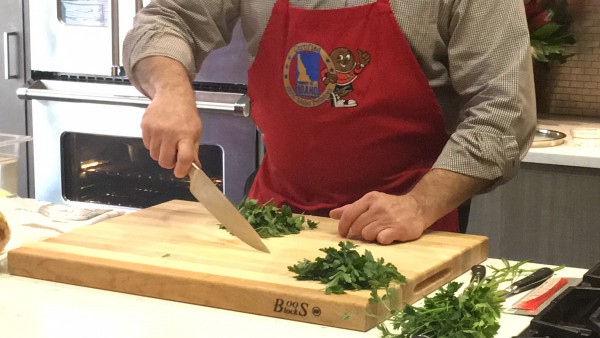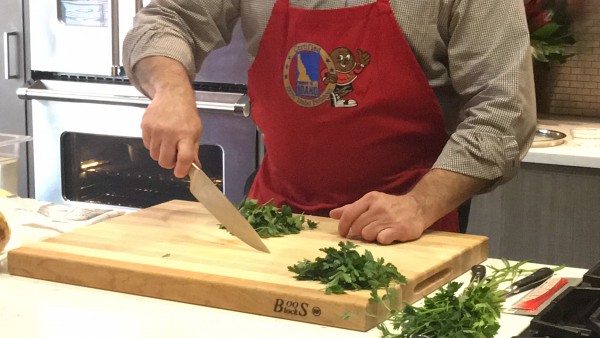 The class turned out to be one of the best classes I've ever taken in my grown up adult life. I felt that the skills I learned  I should have learned YEARS ago and now am thankful I can teach my kids the RIGHT way to do a few things in the kitchen that they will probably be doing for the rest of their lives.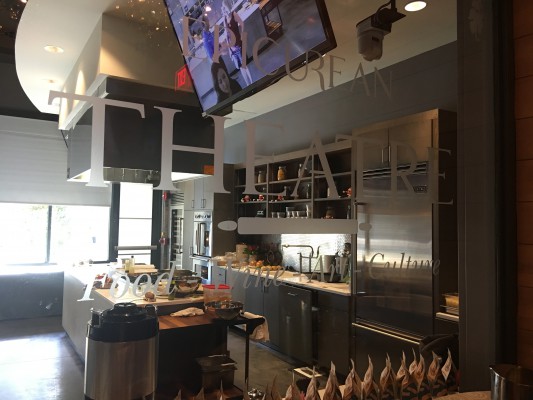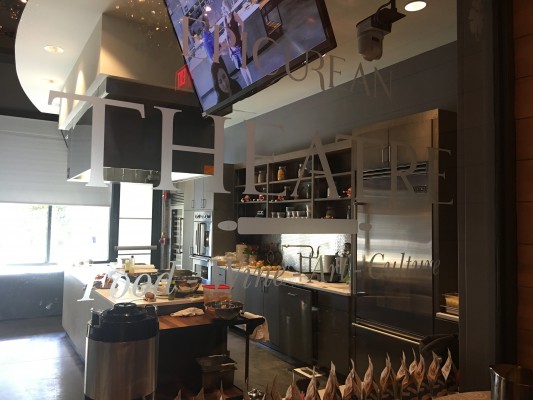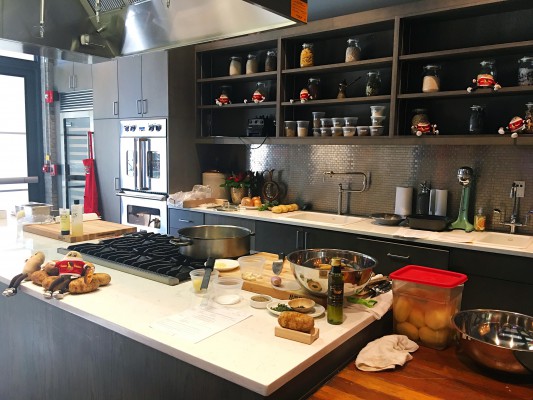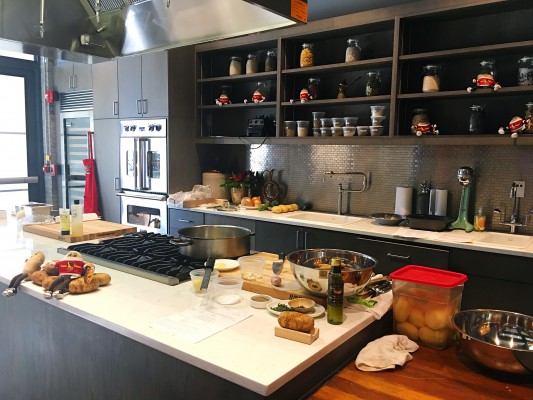 Everything we learned during the class can be found on the Idaho Potato website. So many recipes! Check out some of my favorite "new" ways to make potatoes (including a Hasselback Potato!) and the many recipes that will have your own Sunday Supper simmering in no time!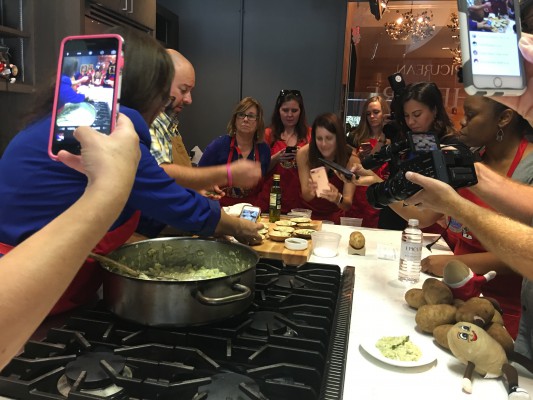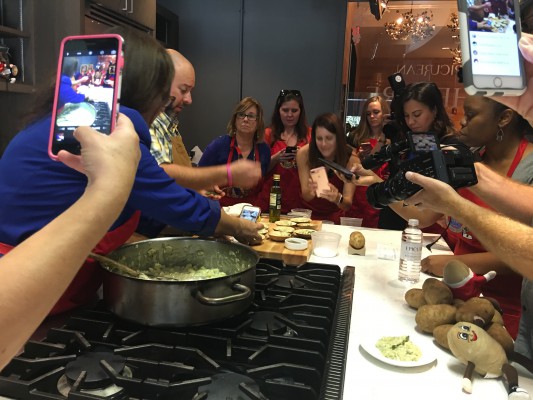 In true food blogger fashion, this is what happens when you get a group of foodies around highly trained chefs that cook REALLY amazing food! I hope you'll check out the official Idaho Potato video here as you'll learn what we learned in this knife skills class!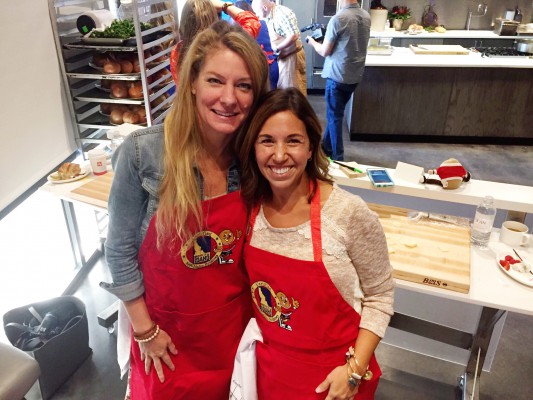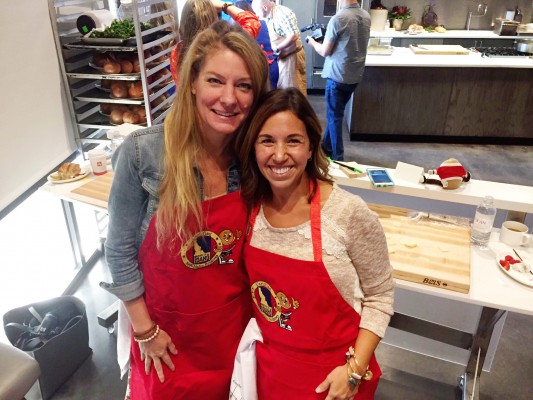 Pictured Above: Professional food blogger and author of An Appealing Plan (the book and blog), Krayl Funch  and I cooked together and had the best time!  I am sure Top Chef will be asking for our resumes soon!
Disclaimer: I was invited to attend the Idaho Potato Cuts Class event as a guest of Isabel Laessig, a Idaho Potato Commission Blogger and founder of the Sunday Supper Movement. Thank you to the additional sponsors John Boos & Co. cutting boards and Wusthof Knives. All opinions mentioned above are my own.