I've been blogging for a while now and I also am addicted to reading blogs! Especially about movies! And in the past year, I have been fortunate to have seen some very cool movies before they hit theaters.
I had an AWESOME opportunity to see GUARDIANS OF THE GALAXY VOL.2 a few days before everyone else, but let me tell you…when I told my son we had media passes, he lost it! I have also been reading about all the cast insights and more from a few lucky blogger friends of mine who were picked to be red carpet bloggers at the premier! They got to interview the cast and I just couldn't stop reading! Check out my friend, Vera's blog, Lady and The Blog, where she dishes with the whole cast and more! So jealous and so excited to see the movie!
We had just seen Guardians of the Galaxy, for the 100th time, last week on our weekly Friday night family movie night! I got ambitious and made these to get the kids more excited to see the GUARDIANS OF THE GALAXY VOL.2 on May 5th:
They were delicious by the way. And totally earned me some cool Mom points too!
And then we saw the movie…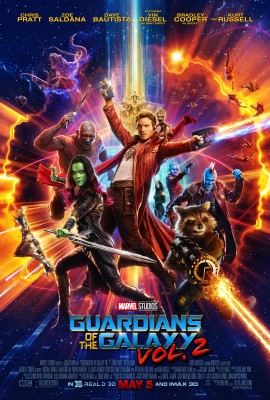 OMG! I just can't spoil it. It would be so unfair. But let me tell you….I laughed, I cried, and all I wanted to do was hug that Baby Groot! It was far beyond what I was was expecting and I was expecting some great things from this movie! The music is epic and tells so much of the story just as it did in the first movie. Dive deeper into the characters and where they came from and how much they mean to each other. And yes, there are even better scenes than the epic dance off with Peter Quill or the dancing Baby Groot to the Jackson 5 from the first movie. The Star Lord will return!
So… now, I have officially hopped on the bandwagon of super galactic fan and will be going out to buy all the things "Groot" and more! Thankfully, there is a ton of super fun toys for me to by my kids (and I promise I will only play with them while they are at school) and my friend Vera, from Lady and the Blog, has an amazing toy guide already done here, so no need for me to recreate the wheel! Check it out here so you'll know what to buy! But the first thing I am buying is the soundtrack.
And I hope you go see the movie. Like opening day. May 5th. Get your tickers now. Like right now. And bring some tissues. You'll need those too.
Make sure to follow along with GUARDIANS OF THE GALAXY VOL.2 on Instagram, Twitter and Facebook!
I was invited as a member of the media to a press screening of GUARDIANS OF THE GALAXY VOL.2 for the purpose of this review. All opinions are my own.