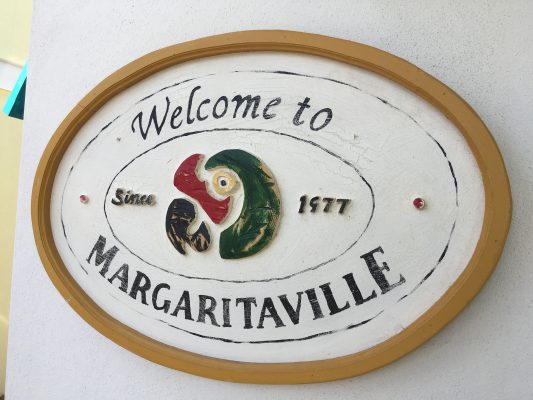 "Wasted away again in Margaritaville…" Soon local Central Florida parrot heads will be just an hour away from wasting away again at the new Margaritaville Orlando Resort off US 192 in Kissimmee just outside of Walt Disney World.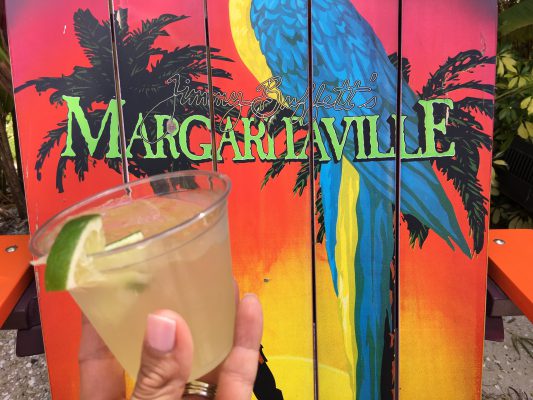 As I listened to my Jimmy Buffet radio station on the hour drive from Tampa, I felt my troubles floating away. Honestly, I was suddenly craving a cheeseburger and a margarita, by the beach with nothing but blue skies and sunshine. And seeing that this is Florida, that dream wasn't impossible. But where to go if you are landlocked in Central Florida? Soon we will all have a perfect spot!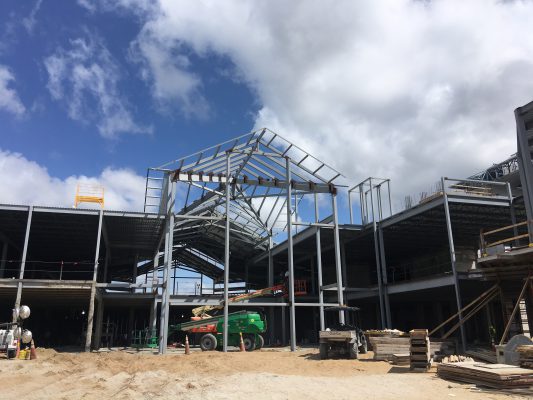 Don't grab your sunscreen yet, this property isn't open until late 2018 but you can bet me a Margarita I'll be one of the first ones with a drink in my hand and my toes in the sand once they do open. Until then- here are some pictures and details on what's to come.
The Shopping at Sunset Walk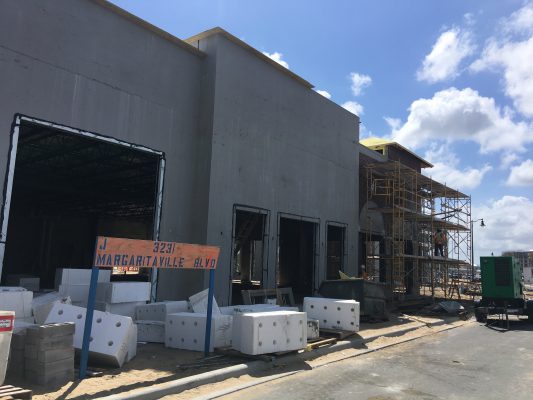 There will be a live music & retail space just outside the hotel area, open to the public, with an outdoor pavilion and walkable restaurants and shopping called Sunset Walk. The 200,000 sq feet of retail space will have everything including a farmers market, a Central Park with live music, a massive tiki bar and lots of friendly shopping options! According to my sources, some of the new tenants include Gametime, Studio Movie Grill , Rascal Flatts Restaurant, Rock & Brews, Skechers, Bahama Bucks Original Shaved Ice Co., Avalon Day Spa, Café Rio, Cold Stone Creamery, Paradise Spirits and Wine, and BurgerFi.
This will all open up in November/ December time frame as well.
The Resort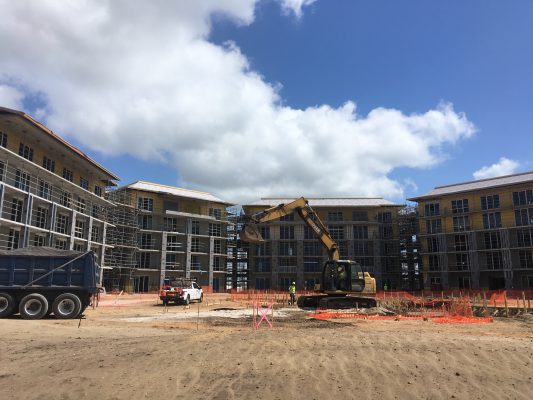 Opening up for vacations & island life November /December 2018 but you can book now!
This hotel will be nothing short of amazing as any $750 million dollar project for a 300-acre resort should! The resort includes a 187-room Margaritaville hotel, 900 resort rental homes, 300 timeshare units and a 12-acre, multi-million-dollar water park. I can't wait to see the progress! Here's a few details that caught my eye during my hard hat tour of the construction site!
187 Rooms
7ft wide balconies
All rooms face the south.
90 rooms in each wing.
Primarily kings and double queens and a few suites.
Main lobby area with live music and restaurants.
300 acres in total
3 acres of swimming pools and beach area
2 sand beach pools- (1 will be a zero entry pool)
A lagoon pool
1 adult pool
Hotel pool (and there might be a fifth one once the timeshare opens)
Wellness center and fitness trails
Little Parakeet Kids Club
Tropical themed 12-acre water park expected
Beach bar and beachside restaurant
Tropical paradise: double check… wow! I can't wait to vacation here!
To see the official renderings, visit the official Margaritaville Orlando Resort website
Did someone say Waterpark?! Yes- yes I did. A 12 acre waterpark will be on property here too! According to the website, here are a few of the amenities we will expect to see! (More details to come on pricing and what's included with your stay, etc)
• 3 Slide Towers
• 6 Lane Mat Racer Slide
• Family Raft Ride
• Serpentine Tube Rides
• Wave Action Pool
• River Ride
• Kids Island with Slides, Rides, and Food and Beverage
• Plenty of Shady Areas
And they will have vacation cottages too!!!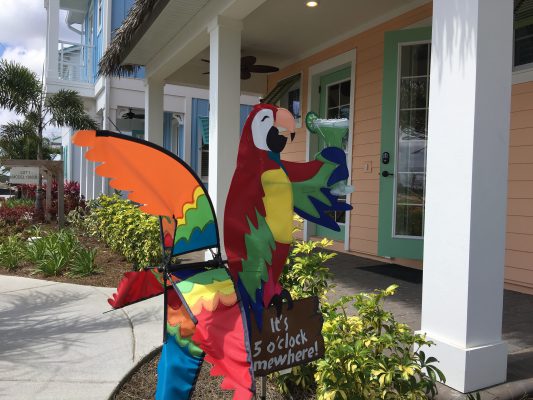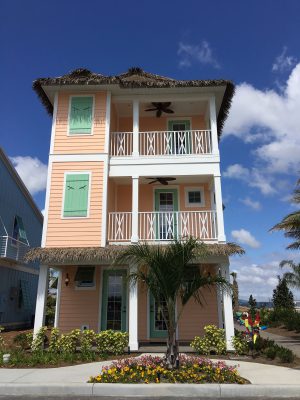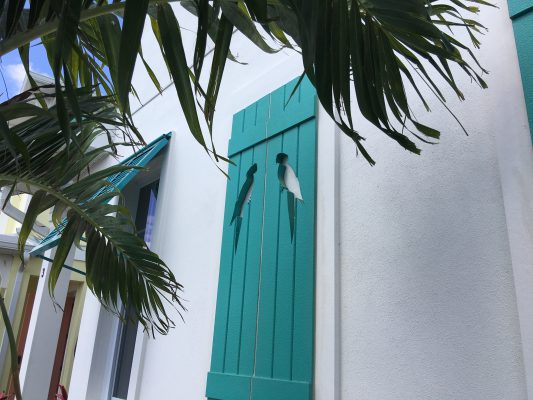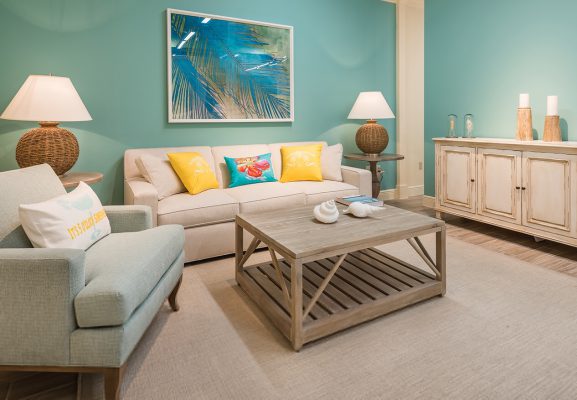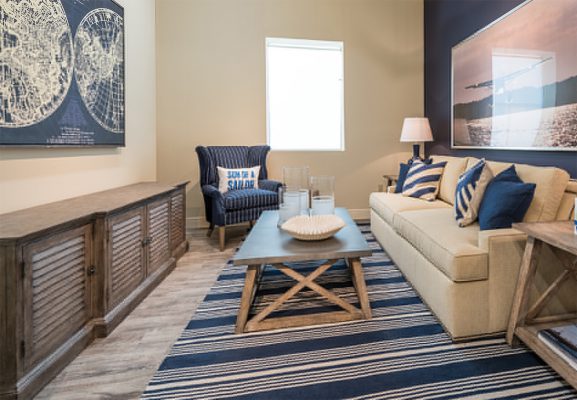 The vacation cottages are adorable and look like you are inside a tropical oasis! Each one is themed as if it came directly out of a Jimmy Buffet song. The whimsical, tropical, "son of a sailor", beach vibes are echoed loudly in every detail of the homes. I LOVED the Ethan Allan line of Margarita furniture and decor!!
First cottage will be available in July and yes…they are already sold:) This is phase one.
Short term rentals will be available for us that just want to stay a night. Most people are buying and using a property management company to rent them out when they are ready.
The ones built can be anywhere from 1 -8 rooms. Prices start at $259,999 – $909,900 in price and not too many are left!
Hop on the website to book! Best of all, is that you'll have access to all resort amenities! We love staying in VRBO's or Air BNB's so this is a great option as it would be like a house but comes with resort amenities!
Additionally Margaritaville Orlando Resort will be offering transportation to theme parks, rentable beach bikes and all only 30 minutes from the Orlando airport- MCO.
I cannot wait until their open this fall! Bring me a margarita and a cheeseburger STAT! The "no worries capital of the world" will soon be open in Orlando! I need this vacation!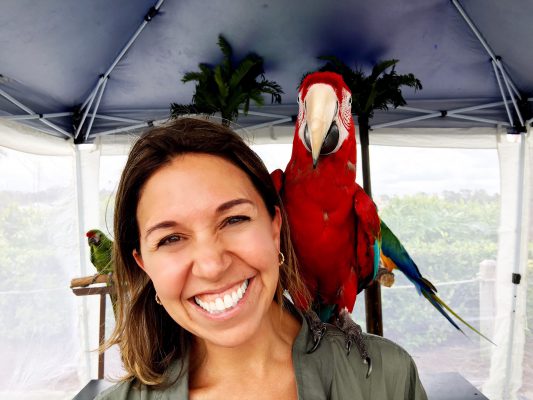 Click here to book your vacation now!