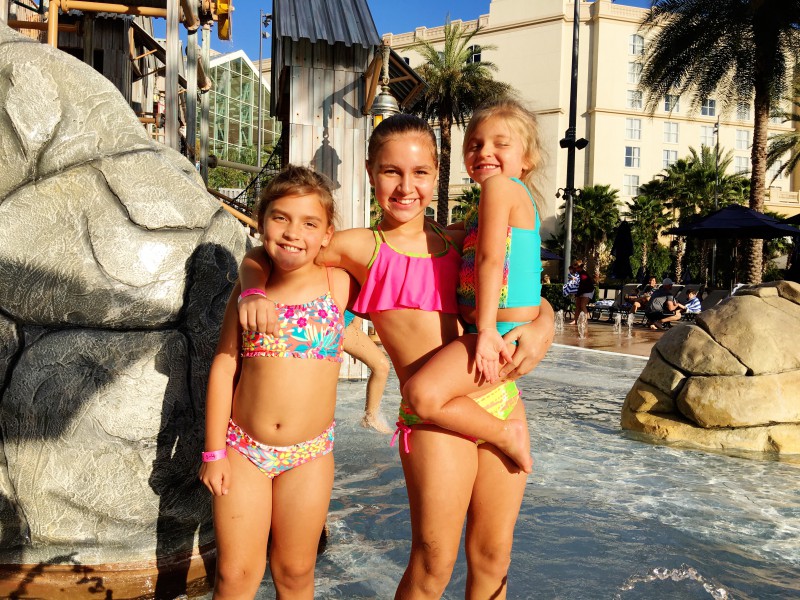 Nothing says summer time like swimsuits and pools!
It's summer time in Tampa Bay and we can't wait to explore our city! I've got the best tips on how to survive, how to simplify and just be this summer! Check out my article in Tampa Bay Parenting Magazine!
Here's my top list of 75 things to do this summer with links so it's an easy find!
Cool off! Take advantage of places like the YMCA Tampa pools (try it out for a day for free), City of Tampa Parks and Recreation pools (free with a REC card) or free splash pads like the ones at Curtis Hixon Park or Anderson Park in South Tampa. You might even have a pool in your back yard! Beaches are free and Florida has about 700 miles of coastline! Cooling off is essential for the summer!
The Library Read! Learn something new! Free events or classes all summer at your neighborhood library. The perfect place to cool off this summer!
Take your family out to a ball game. Head to a Tampa Bay Rays game on a Tuesday when kids at $2. Every Sunday home game at Tropicana Field is Family Fun Day! Enjoy pregame entertainment and post game races on the field!
Find a NEW park. Did you know that Jullian B. Lane Park is the newest and biggest park in the City of Tampa! With so much to do here, you'll have to come back a few times! A few of our favorites also include Lettuce Lake Park, Ballast Point Park, Curtis Hixon Park and Water Works Park!
Take your camera and head to Downtown Tampa and be a photographer for the day! Hop on the Tampa's Downtown website and make a scavenger hunt before you go!
Have a lemonade stand. Make a poster! Make the lemonade yourself! Invite a friend over to help you build your stand! Then, take the money you made and save it up to do something fun!
Find a new beach. Hunt for seashells. Bring a net to do dip netting and learn about the ocean biome! Go with friends for even more fun!
Bake something! Work on fractions, following directions and patience! Bring them to a neighbor when they are done! You are sure to brighten someone's day!
Learn a new sport. Learn to golf through the First Tee of Tampa Bay through the YMCA. Enjoy a family night of golfing at Top Golf!
Make a summer journal. Keep a diary of your adventures! Use brochures to make a collage of places you've been. Add in pictures you took and write about all the places you've been! Printing pictures from your phone has never been easier!
Plant a garden. Take some time to plant a garden in the beginning of the summer. Herbs, peppers, eggplant and tomatoes are really easy to grow in the summer in Florida! Decorate your garden with painted rocks, gnomes and fun signs! BONUS! Make sure you have a garden party with your veggies when they've grown!
Summer clean your room. Maybe move things around! Get rid of the things you don't use any more! Maybe paint it a new color! It's always fun to switch things around!
Take an tour of Tampa Bay via the Pirate Water Taxi! What a fun day to explore and see Tampa from a new point of view! BONUS: Hop on and off to take advantage of the museums and parks in Tampa's Downtown! **A MAMA LOVES FAVORITE
Disconnect your phone and reconnect with the family for a staycation in Clearwater Beach! We love the Wyndhan Grand Clearwater Beach because it is right across the street from Pier 60 that has a nightly Sunset Festival! Every nigh, artisans, crafters and street performers will make this a perfect place to head to as the sun goes down. Bring your swimsuit, play in the sand and watch the amazing sunset from Pier 60 at Clearwater Beach! BONUS: Free movies nightly at the hotel while swimming in the pool! **A MAMA LOVES FAVORITE
Bake something! Work on fractions, following directions and patience! Bring them to a neighbor when they are done! You are sure to brighten someone's day!
Head to Tampa's Downtown for the Fourth Friday! Lots of deals at local businesses, free music, a free hour of Coast Bikes and just a perfect way to enjoy the Riverwalk!
Plan a 1 tank trip! Explore a new city! Learn about the new city before your visit! Be a weekend warrior!  Lots of ideas on places to visit with kids in tow on VisitFlorida.com!
Head to an outdoor concert at Curtis Hixon Park. Rock the Park is a free concert that happens every first Thursday of the month. Bring some blankets, pack a picnic and invite some friends!
Watch the fireworks at Channelside
Head to Lowry Park Zoo!
Sign up to be a Girl Scout and learn about all that they offer girls in Tampa Bay! **A MAMA LOVES FAVORITE
Ride your bike or roller blade on Bayshore Blvd. It's the most scenic rides in Tampa! Don't have a bike! That's ok! Use the Coast Bike Share bikes!
Bring your sports stuff and hit up Kate Jackson Park in Hyde Park Village! They have basketball courts, a playground and a splash pad for the babies! BONUS: Have lunch at Hyde Park Village! We love Bar Taco!
Write a letter and mail it to someone. Make sure to tell them to write back too! CATCH: Go to the post office to drop in the mail box!
Take an art class at Ybor City Art Studio.
Go to a Farmers Market! Tampa Bay Markets have wonderful outdoor markets located all over Tampa Bay! Easy like Sunday morning, grab the puppy and head for a fun day at the market. BONUS: Shop for fruits and vegetables that you can use to cook dinner together!
Make something to sell at The Tampa Kids Market! Spark entrepreneurship by creating something and selling it! The Village Square gives kids to have their own pop up shop at Westshore Mall once a month.
Visit the Glazer Children's Museum and pack a picnic lunch for a day in downtown at Curtis Hixon Park!
Hit the Drive-In movies at Funland. Do a movie night old school at the drive in! Kids will think this is the coolest way to see a movie!
Visit the Florida Aquarium.
Learn to rock climb at Vertical Ventures. Saturday nights are 2 for 1!
Visit Busch Gardens!  Lots to do each day and night!
Head to Orlando and explore the city! Stay at the Gaylord Palms in Kissimmee where they have a water park and a super cool hotel to explore. Visit the Crayola Experience and get creative for the day! Then head to iDrive 360 where you can check out all of Orlando as you hop on the Orlando Eye, a 400-foot tall observation wheel! End the night with a sweet treat from the Sugar Factory! It's a weekend the kids won't forget! **A MAMA LOVES FAVORITE
Redecorate your room (with ideas from Ikea when they have free lunch for kids on a Tuesday)!
Hit the Drive-In movies at Funland. Do a movie night old school at the drive in! Kids will think this is the coolest way to see a movie!
Take a backstage tour of Tampa Theatre and learn about one of the oldest theaters in America! Stay for a classic summer movie on a Sunday afternoon with their Summer Classic Movie Series! They also have summer camps too!
Visit a National Park and earn a Junior Ranger Badge! Did you know that Fort DeSoto is a National Memorial! Not too far from Tampa!
Hit Adventure Island for a day! Play some volleyball or ride the slides!
Take a yoga class. Free yoga each Sunday at Curtis Hixon Park.
Head to the Hillsborough River and go canoeing with Canoe Escape.
Volunteer at Feeding America Tampa Bay with the whole family! Teach your kids about hunger and how they can help! Sign up at FeedingTampaBay.org
Take an "Art Spot" class at theTampa Museum of Art(Free every Saturday from 11am-2pm)
Visit LEGOLAND and/ or their water park! TIP: Teachers LEGOLAND Florida Resort, The Orlando Eye, Madame Tussauds and SEA LIFE Aquarium offer Florida teachers one year of free admission with a Teach Pass.
Visit the Tampa Bay History Center and get a lesson on Tampa Bay became the city it is today! BONUS: Eat lunch at the Columbia Restaurant!
Start a fundraiser and write letters to people who you think could help you with your cause.
Take a yoga class. Free yoga each Sunday at Curtis Hixon Park.
Go fishing! Grab a reel and have some fun the old fashioned way! So many docks and places to fish in Tampa Bay! Learn more at TakeMeFishing.org.
Throw a party! CATCH: You have to plan it, write invitations, figure out what to do, what you will eat and be the host! (That means you are in charge of clean up too!)
See a Tampa Bay Storm game!
Visit MOSI and give a ropes course a try!
Exercise your brain with daily crossword puzzles free in the Tampa Bay Times.
Have arts and crafts day at home! You don't always have to be on the go! Make a day of painting and crafting at home! BONUS: Use recycled materials to create works of art!
Check out aRowdies Soccergame in St.Pete!
Try a new type of food! Have a fancy lunch at the Columbia Restaurant and watch the flamenco dancers! Try traditional Spanish or Cuban food like paella!
Get everything ready for the new school year! Take your time and go shopping when school supplies come out in July! Find the best deals and just add them to your school box and cross things off your list! Once school starts, you'll be 100% ready!
Start a blog! They are free at blogspot.com and will help you with writing and you might learn a little coding too! Always ask your parents permission before you post!
Turn off all electronics for 1 FULL day. Can you really do it? (YOU TOO MOM AND DAD!) Unplugging for the day is amazing, but even setting limits during the summer will be best for everyone! Especially during family dinners!
Grill out! Fire up the grill and invite some friends over for an old fashioned BBQ! BONUS: Have the kids help decide the menu and help prep the food!
Go scalloping in Crystal River! It's like an Easter egg hunt while swimming! All you need is a bag, mask, fins and a snorkel! You've love this new family tradition once you start!
Host a lemonade stand!
Clean out your closet and donate what you don't use!
Explore a National Park and become a Junior Ranger!  There are so many here in Florida!
63. Summer Movies! Not only are there a ton of new movies coming to a theater near you like Cars 3, but many theaters offer cheap summer movies too! Regal Cinemas are offering $1 summer movies every Tuesday and Wednesday at 10am!
Go bowling. Sign up at KidsBowlFree.com for 2 free games of bowling all summer long!
Volunteer at the Humane Society of Tampa Bay!
Visit the Tampa Bay History Center and get a lesson on Tampa Bay became the city it is today! BONUS: Eat lunch at the Columbia Restaurant!
Visit the Clearwater Marine Aquarium and see Winter! Have a movie night with Dolphin Tale 1 or 2 before visiting! BONUS: Pair this with a dolphin watching excursion for an even more exciting and educational day!
Head over to TradeWinds Island Resorts on St.Pete Beach and purchase a day pass! It's a fun way to play all day in the hotel pools, unlimited rides on the High Tide Slide, mini-golf, paddleboats, beach cabanas and more!
Eat ice cream & popsicles! We love Hyppo Popsicles in Ybor City or South Tampa, Whatever Pops in Seminole Heights and Revolution Ice Cream in Seminole Heights, and Astro Ice Cream in Tampa Heights!
Take a train to…somewhere! It is all about the journey! Hop on the Amtrak from Union Station in Tampa and head to Charleston, SC or Svannah, GA! It's more about the journey on this trip for sure!
Test out your wings and go indoor sky diving! iFLY is the ultimate indoor skydiving experience. They even have STEM field trips where you can learn about the science of flying too! They definitely won't forget it!
Test your chess or checkers skills at Armature Works! Snag some awesome Astro Ice Cream (make sure to watch how they make it!) and head outside for a larger game of checkers on the lawn! Catch a sunset over the Hillsborough River and dine at one of the many electic inside Armature Works. It's a total win for everyone in the family!
Take a computer class at the Microsoft Store or Apple Store. Lots of free fun classes all summer long!
Ride bikes along the Riverfront! Stop for lunch at the Sail Pavilion!
Explore the mural art in Tampa and St.Pete. Stop the car and really take a good look at the public art now on display all over these cities! It's just beautiful! TIP: Make a coffee table book with all the pictures you too of Tampa Bay art!
Watch my Instagram feed all summer to check out what we are doing!