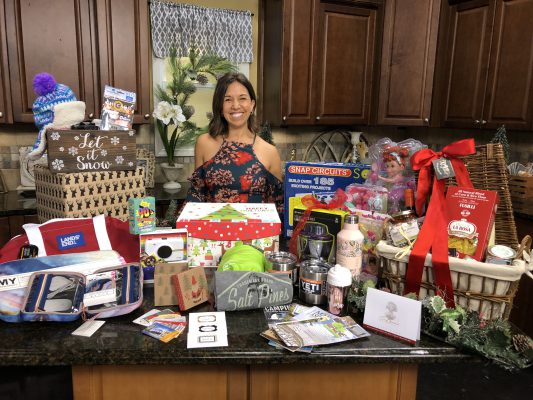 I absolutely love that Great Day Live Tampa Bay gives me an opportunity to share my favorite things with all of Tampa! This Tampa Mama is feelin' the LOVE! Yes, having 4 kids to shop for makes this time of year crazy, but if you can get ahead of the game you'll be set. And also, shopping local (that means you Hyde Park Village!) gives me the opportunity to get those special items for that special someone very easily and with no shipping! Thank you to Fig and Julep, Salt Pines and Francesca's in Hyde Park Village for working with me to fill my set with all the perfect gifts!
My top ideas from the segment included: (See bottom of post for all links
How to give an adventure: What I wanted to do here was help others give an experience. A trip is a good gift in theory, but how can you put it under the tree. Start to gather items that they would use on the trip. Call the CVB and request maps and brochures! Use fun stickers and a box with all the surprises for the kids to open so that they can get excited about the vacation!
Night out vs Night In: Yes, everyone of us in Tampa would love a GC to the famous Bern's Steakhouse of course! And if you do go that route, maybe pair it with a DryBar appointment or a hot shave from The Cambridge Club in Hyde Park Village! And if you are wanting to do a "night in" stop at the Fig and Julep in Hyde Park Village for an amazing selection of world class food items! This will be a "Gourmet Night In". Find everything you need to truly create a gourmet dinner for your loved one. Choose from the finest of ingredients from all over the world to elevate your cooking and take you on an epicurean adventure in the comfort of your own home. A night in never tasted this delicious.
Toys that are cool AND functional or educational: Duel purpose! Of couse the kids are going to need some toys to open on Christmas Day!
Ideas that won't break the bank. I created my our Tampa Mama Adventure box! You too can make this especially for your kids! 12 mini envelopes. 12 gift cards for various activities. They only open one a month and we will do the adventure that day! Add any thing your kids would like!
Tip: Contact the CVB of where you are going to have them send you brochures and maps!