With April only a few days away, I couldn't wait to share the news! Drum roll………….
AHHHHH!!! Shelby & I were asked to be on the cover of Tampa Bay Parenting Magazine (THE BEST parenting magazine in Tampa Bay!) I have read this magazine for 14 years. The editor Laura, has become an amazing friend and I could not be more excited to see that Tampa Bay parents get to have HER guiding them around our city! It's a beautiful publication and one that many bloggers have the opportunity to contribute to. She believes in collaboration and I just LOVE her as a person too!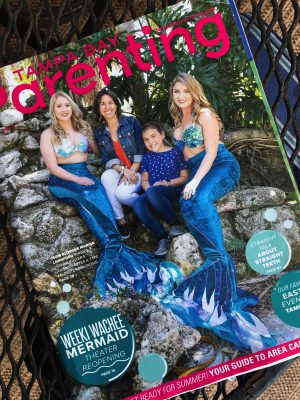 My story "Our Sweet New Normal" is on 78. I was so honored to write this with the JDRF Tampa Bay ONE WALK coming up Amalie Arena on April 13th. We are TEAM SHELBY and would LOVE to have you walk with us!
CLICK HERE to join Team Shelby!
Our story is only one of 40,000 each year newly diagnosed with Type 1 Diabetes. I tell you about our diagnosis day, what our new normal is like & why research and funding are needed now more than ever. Thank you Tampa Bay Parenting Magazine for allowing us to share this important message. I hope you'll read and maybe come walk with us!
If you see us out and about snap a picture and tag us on Instagram at @TampaMama! We'd love to see where you picked us up!