"Honesty is the first chapter of the book wisdom." – Thomas Jefferson
This week the Today Show has been talking to people that inspire. I love inspiration. I am a dreamer. I am a doer. I am a person who does find stregnth from people that inspire me each day to do better, reach for more, live for more, and help me realize that I am fortunate enough to live the life that I live in so many ways.
But today, I am inspired by my husband. He much like many other men in America. He works for his family and loves us unconditionally. He is hard working, honest, caring and loving, and today I could not be prouder of him and feel more inspired by his actions. Today he will received, what I think, is one of the most prestigious awards. A citizen award from the Tampa Police Department. He helped catch a few "bad guys" in our neighborhood and because of him, a few of them are no longer stealing from our neighbors. He did the right thing. He didn't make it a big deal, but I think it is a huge deal. He's not the spotlight kind of person…that's just him. And all the more reason he inspires me.
Chance inspires me because from the moment I meet him because he's always wants to do the right thing. Family values are the highest of priority for him. Because that's what matters the most. He has taught me that above all, it is family that should be put first. He has a strong set of values I hope our children will carry with them through life.
Today, we will watch him be recognized for something that he did because he knew it was right. A lesson any parent wants to teach their children: right from wrong. I am inspired by his humbleness and his willingness to always do the right thing. He has done it for many years when no one was looking. This inspires me to make sure that I am living my best life, but I hope my children will remember today too. It might make their road of life easier to navigate if they is always honest. We can show our children how we'd like them to behave, but we can only pray for our children to do the right thing when the time comes for them to make decisions without us.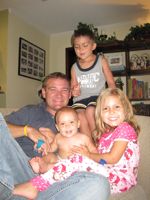 So that's my daily dose of inspiration. I hope that you find inspiration from people around you too. The people who are in my life, those who I call friends and family, I am inspired by each and everyone of you in simple ways that you probally don't even realize. Thank you for keeping me going. I know you are in my life for a reason and I am so glad you are there too.