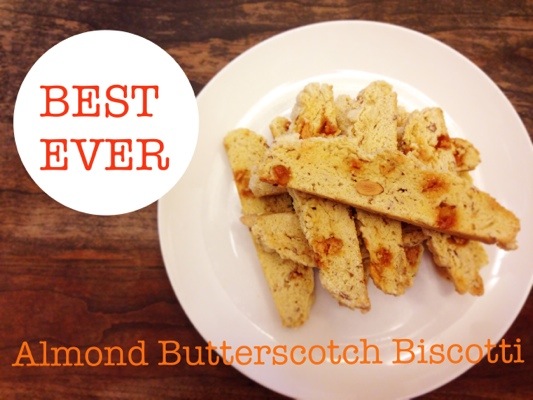 I've never been a biscotti fan until recent. Not sure if it's the convenient nature of them but I have been baking them non-stop since I learned how easy they are.
My favorite have been tweaked and perfected to bring you this delicious breakfast treat you'll have to try at your next special occasion.
My Mom LOVES this recipe, so on this Mother's Day, I thought I'd share her favorite recipe that I make especially for her.
I loved to cook with my Mom growing up. Baking was so much fun with her. I know my kids love cooking with me just as I did with her. Cooking with kids is such a great way to learn, bond and try new things. We hope you'll try one of our recipes!
Best Almond Butterscotch Biscotti
2 cups flour
1 cup sugar
1 tsp baking powder
1/4 tsp salt
3 eggs
1 tsp vanilla extract
1 tsp almond extract
2 tbls rum
1/2 cup almonds
1/3 cup butterscotch chips
Toast the almond at 350 degrees for 10 minutes and set aside.
Mix flour, sugar, baking powder & salt and set aside.
Mix eggs, vanilla, almond extract & rum and set aside.
Preheat oven at 300 degrees.
Mix dry and wet together adding in the toasted almonds and butterscotch.
The mix will be sticky.
Use non-stick cooking spray and spray a cooking sheet.
Mold your loaf into a flat loaf. It will not rise and will keep the shape you mold.
Bake at 300 degrees for 50 minutes.
Take out and cut into bars using a serrated knife.
Put the bars back on the sheet and bake for another 15 minutes at 300 degrees.
Let cool. Store or freeze.
Enjoy with a cup of your favorite coffee!