We are almost there. Almost done. So close yet so far.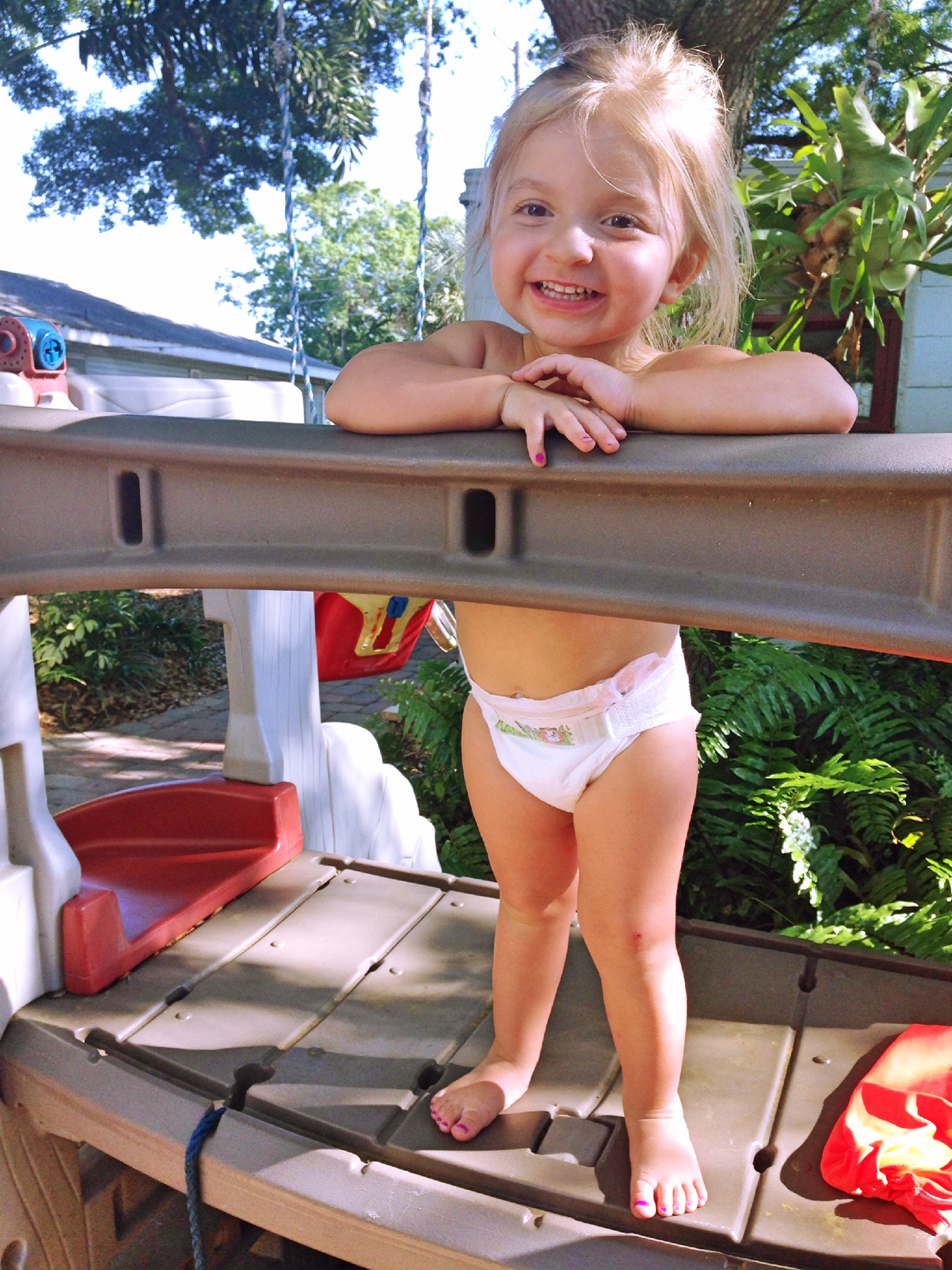 This is my monkey. She lives in the trees (or at least I would gather that she would rather most days). She'd rather be naked most days and we are on the verge of potty training, but we just aren't quite there yet. So here we stand. On the final diaper frontier. I can say that over the past 3 children that I have raised I have gotten to be much more knowledgeable about the diapers that my kids wear, what goes into their body, what goes on their body and so on. There are more certifications and labels that I see now on products that state organic, eco-friendly and so on. But I am much more aware of what these mean and what works best for my family too.
I fell in LOVE with the diapers that Abby is wearing now, the Bambo Baby Diapers. I can honestly say that they are the best diapers I have used and my only regret is that I didn't find them sooner.
Abby has super sensitive skin and these have been the only diapers that she hasn't had an allergic reaction to because they actually let her skin breathe. They contain no dangerous chemicals and or allergens, and if you have a child with sensitive skin, you will be very aware of anything that touches their precious skin.
According to Web MD, 95% of parents use disposable diapers, but do you really know what they are made of? And of course, the cloth diaper debate is also one to look into as well (my good friend Calley, The Eco Chic, LOVES her some cloth diapers and is considered an expert so you can ask her here).
But for us, we went with an eco-friednly, dermatologically tested Bambo Nature line that made me feel good about purchasing diapers for the time that we have left in them.
Thank you to Bambo Nature for sponsoring this post!

For more information and to purchase the Bambo Nature Baby Diapers click here or read below about the product:
For over three decades, Bambo Nature has taken every measure to bring you a premium baby diaper that's gentle, soft, and made of 100% sustainable materials. Bambo Nature has earned more credentials, awards, and eco-labels than any other diaper on the market. While other brands are busy making claims, we're busy substantiating our diaper's premium quality with concrete proof.
Our Premium Promise:
· Guaranteed Skin-Friendly – No Dangerous Chemicals and or Allergens
· Guaranteed Eco-Friendly – Sustainable Resources and Less Waste
· Guaranteed Sleep-Friendly – Maximum Absorbency, Ultra-Soft, Ultra-Flexible