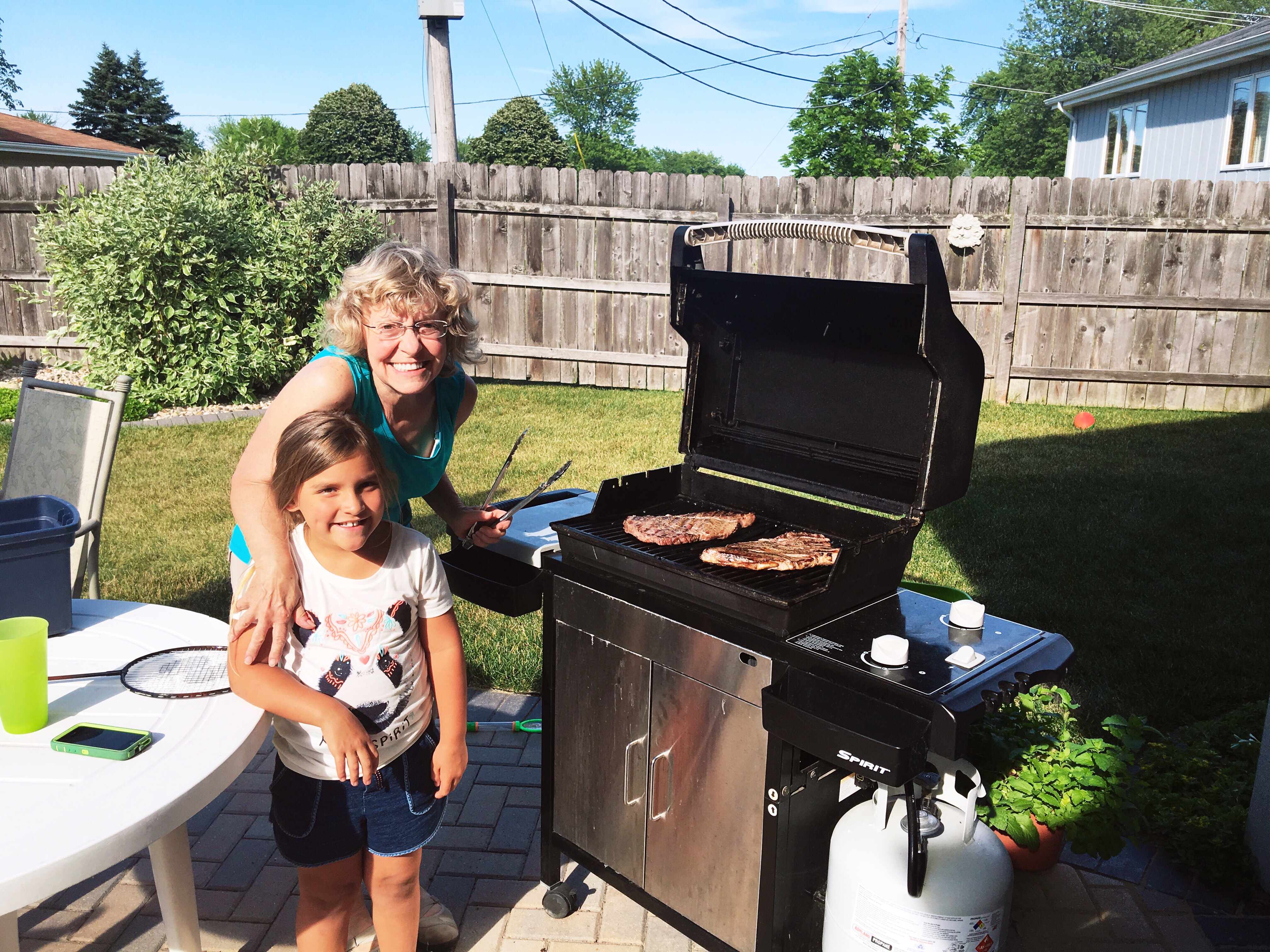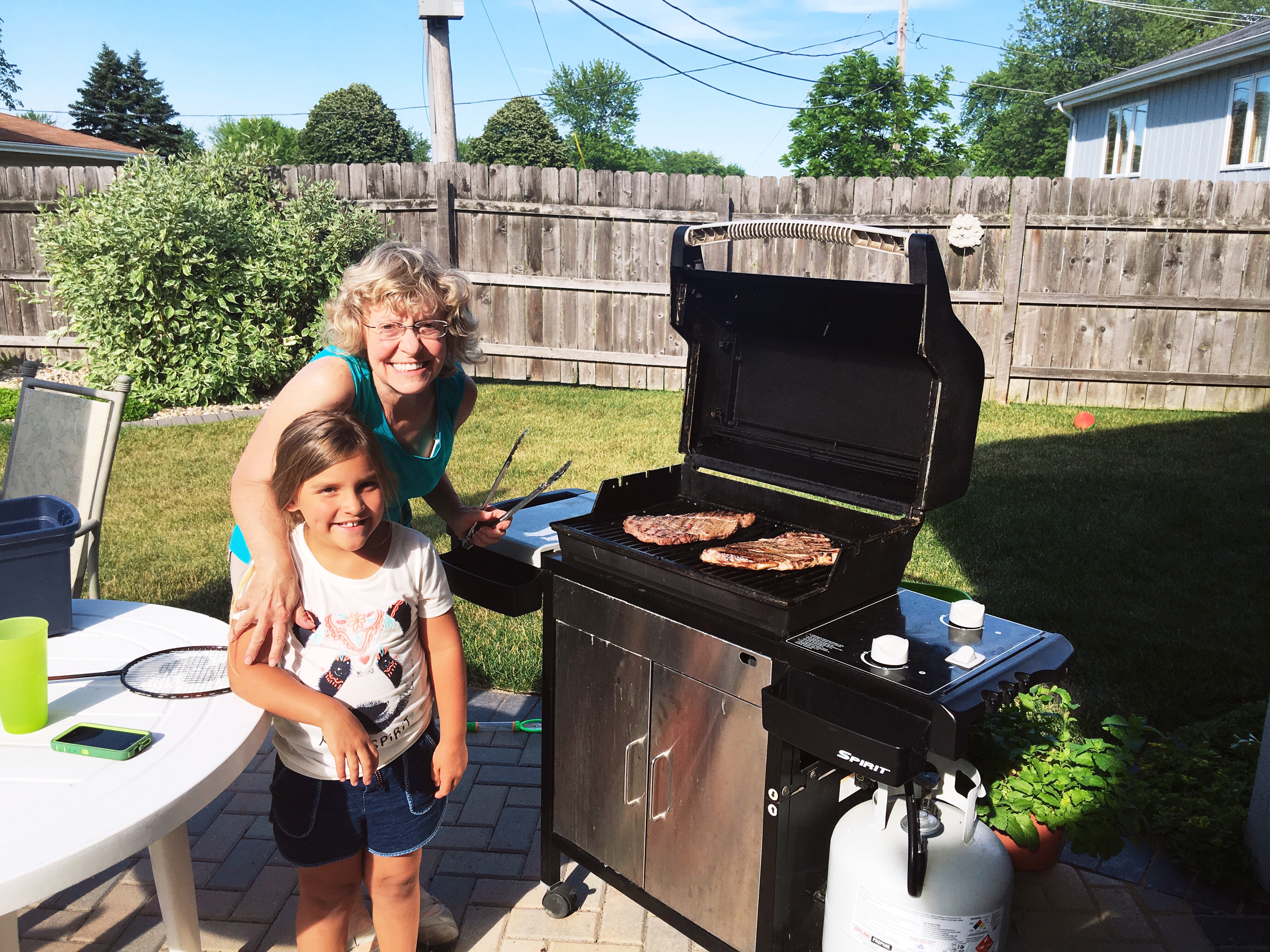 I love this picture because it's so different! It's not your typically picture of a "grilling master." It's my Mom and she loves to grill. And she's really good at it too! She's never been afraid to learn new ways to cook and I love that she's showing my girls that they can cook on the grill too!

With the 4th of July coming up, my Mom and I will be firing up the grill. I have to admit, I'm not the griller in my family! I can cook, but grilling is not something I really know how to do. So planning an outdoor grill out party is a little intimidating for me! I might need help!
It also takes a lot of preparation – How much food should I buy? What are the ingredients I need, exactly?
Help is on the way! The Grill Masters at LongHorn Steakhouse are hoping to make it easier for grilling enthusiasts (or first time griller a like me) to celebrate this Fourth of July. The restaurant launched a "Grill Out Planner" on its ExpertGriller.com website that allows users to find chef-inspired recipes and create personalized shopping list with all of their grocery purchase needs. All you have to do is select the recipe you'd like to make, select how many servings/guests, and the planner will show you exactly what you need to buy on your next grocery trip.
And get this! In addition to the "Grill Out Planner," LongHorn Steakhouse's "Grill Us Hotline" will be live from noon to 5 p.m. ET via 1-855-LHGRILL. Say what?!! I know, right!!! REAL Grill Masters will be on-hand to answer all of your grilling questions during this time. You can also text the Hotline 24/7 through Labor Day Weekend by texting GRILL to 55702.
Visit the ExpertGriller.com from June 20 through July 20, grillers can also enter LongHorn's sweepstakes for a chance to win free steaks for a year, for two!
All this is great news for me!  I've now got some new recipes I'm trying out and can't wait to enjoy amazing food with family and friends this weekend!
Here's the recipe I'm making this weekend! We eat grilled corn on the cob all the time but this is a new recipe! You can downloaded it here!
Inspired by LongHorn Steakhouse's Summer Peak Season menu
Ingredients
• 4 ears of corn
• 1 cup sour cream
• 1 cup heavy cream
• 1 teaspoon salt
• 4 tablespoons of butter, melted
• 4 tablespoons of grated parmesan
• 1 teaspoon of paprika
Directions
For Crema Sauce​
• Mix sour cream, heavy cream and salt in a medium bowl. Set aside.
For Corn on the Cob
• Select corn with a moist stem, and glossy, pale yellow silk. Pull back the husk so you have a handle for the finished product.
• Place ears of corn on the grill with a low-heat.
• Give the corn a quarter turn every 4 to 5 minutes. The cooking process should take about 15-20 minutes, depending on your grill temperature.
• While corn is grilling, add grated parmesan and paprika to a medium sized bowl and mix to combine.
• Take corn off the grill and brush it with melted butter.
• Brush grilled ear of corn with crema sauce, then sprinkle on parmesan and paprika mixture.
• Enjoy!
Are you grilling out?! Share what you are cooking in the comments below and we will pick one lucky reader to receive a LongHorn Grilling Gift Pack!  Just comment on this post to be entered!
Stay safe and have a delicious 4th of July!
Disclaimer: I've partnered with LongHorn Steakhouse to show that anyone can grill! All opinions are my own!