Tampa Theatre has been a favorite destination for Bay-area moviegoers for generations. Starting next month, the next generation of young fans will get the chance to see some of their parents' most beloved childhood films on the big screen, thanks to the return of the popular Family Favorites classic movie series, presented by Bank of America.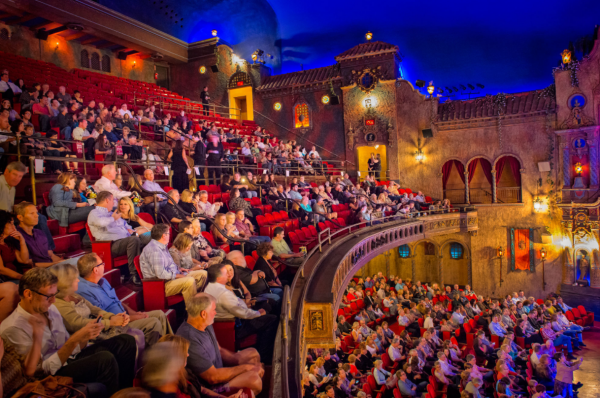 The Theatre also hopes that offering a discounted kids' ticket price for this series – $8 for ages 12 and younger – will appeal to families looking for an affordable weekend outing in downtown Tampa. Adult tickets are $10.
"This is the only classic movie series for which we offer a child's price," says Jill Witecki, the Theatre's Director of Marketing. "While many of our summer and holiday classic offerings are family-friendly, this is the series that we program specifically with families in mind. I want parents to be able to introduce their kids to some of their own favorite movies from childhood and to see them again on the big screen."
The line-up for this year's Family Favorites classic movie series is:
E.T. THE EXTRA-TERRESTRIAL (1982)
3:00pm Sunday, March 26
Steven Spielberg's classic timeless story of a lost and magical visitor from a long way away, trying to return home, continues to captivate viewers of all ages. The audience doesn't need to speak ET's language to empathize with his fear and loneliness, to wonder at his powers, and to want to help him in his struggle to get back to where he belongs. Sometimes the aliens aren't the real monsters. 1h 55m / Rated PG / Sci-Fi
SPACE JAM (1996)
3:00pm Sunday, April 2
Making a good, family-appropriate movie can be difficult — appealing to an audience of kids and adults at the same time is a challenge. But it's an acknowledged fact that everybody loves the Looney Tunes, Michael Jordan was (and remains) one of the most recognizable stars of all time, and nostalgia is a force not to be underestimated. If you don't know at least two songs from the soundtrack of this movie, you were either under the age of four or over the age of 30 in 1996. 1h 28m / Rated PG / Comedy
PEE-WEE'S BIG ADVENTURE (1985)
3:00pm Sunday, April 9
Ah, the 1980s. Maybe at the time the decade wasn't as universally weird as it seems in retrospect, but it surely did usher in a new appreciation of weirdness. The success of Paul Reuben's original Pee-Wee Herman HBO special, which was aimed at adult audiences, led to Warner Bros. asking him to write a script for a full length Pee-Wee movie in 1985, a year before the debut of the (enormously popular) network TV show for kids. This is that movie, a brilliant, bizarre road-trip flick set in a world without functional grown-ups, that catapulted the careers of Tim Burton and Danny Elfman and introduced us a totally original species of absurdist comedy that's funny whatever your age. 1h 31m / PG / Comedy
CHITTY CHITTY BANG BANG (1968)
3:00pm Sunday, April 16
A scant few years after Mary Poppins, Dick Van Dyke once again stars in an Edwardian-era musical as a charming, slapsticky Englishman who's good with kids, but this time somebody told him to do the accent. Chitty Chitty Bang Bang is a rip-roaring musical adventure about a brave, eccentric family (and their eponymous flying car) out to defeat the tyke-hating Baron Bomburst and his evil Childcatcher. 2h 24m / Rated G / Fantasy
PETE'S DRAGON (1977)
3:00pm Sunday, April 23
The original Pete's Dragon was a bit of an underachiever in the Disney movie portfolio, which made its recreation in 2016 even more of a surprise. Disney had seen some success with inserting live actors into animated scenes in Mary Poppins and Bedknobs and Broomsticks, so experimenting with inserting an animated character into a live-action movie was a logical next step. The result was a memorable film for families, with strong character performances all around, and a step forward for the art form in general. 2h 8m / Rated G / Comedy
THE PRINCESS BRIDE (1987)
3:00pm Sunday, April 30
There is a secret to making an all-time great fantasy story for kids, and it's simple. Kids don't only identify with kid characters — they imagine themselves as grown-ups. The old fairy tales knew it. The original Star Wars trilogy knew it. And The Princess Bride not only knows that secret, in a lot of ways it's a movie about that secret — and about not losing your childlike sense of excitement and adventure as you grow up (and learn to like kissing, too). 1h 38m / Rated PG / Adventure
TICKETS for the Family Favorites classic movie series are $10 for adults and $8 for kids ages 2-12 and Tampa Theatre Members, available at the Box Office or online at www.TampaTheatre.org ($2 convenience fee applies).