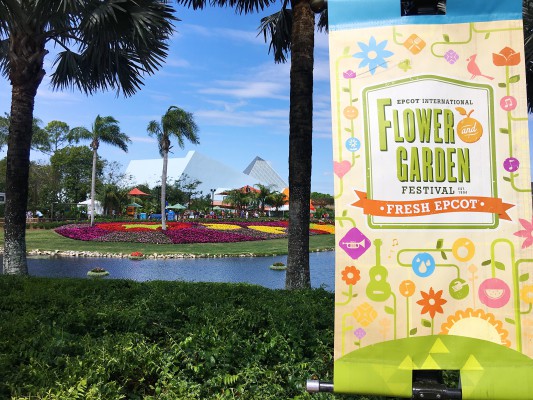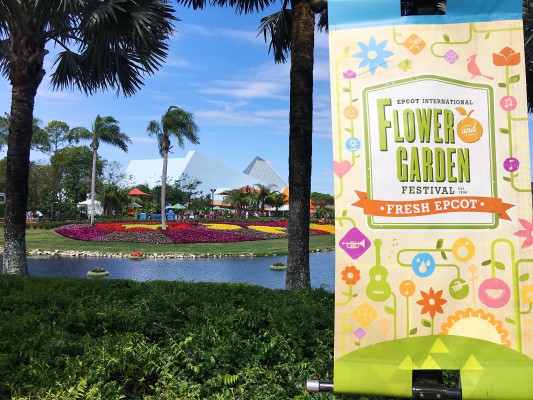 There are a few things that I look forward to you when the weather starts to turn from cold to beautiful. And the skies church start to turn from gray to blue. I love opening day of baseball, I love watching the masters, but to me the first signs of spring happen when I visit The Epcot International Flower and Garden Festival. For the past 24 years this festival has taken blue skies, beautiful flowers and endless magic and transformed Epcot into one of the most beautiful places in Florida this time of year.  And each year the event gets better and better.
And even my kids, seem to live life as an every day vacation, love visiting the festival each year to see what's new. Which is one of the main reasons we love visiting Walt Disney World Resort. There's always something new. Each time can we are so excited to see and experience the new sites sounds and taste of each season.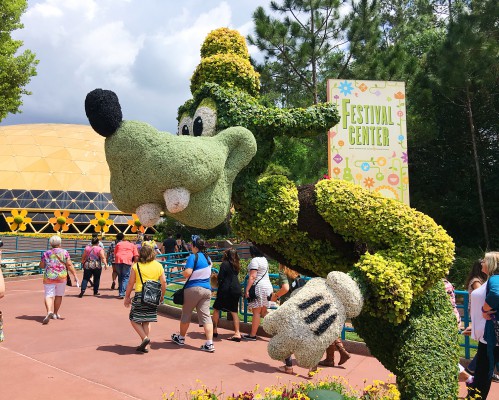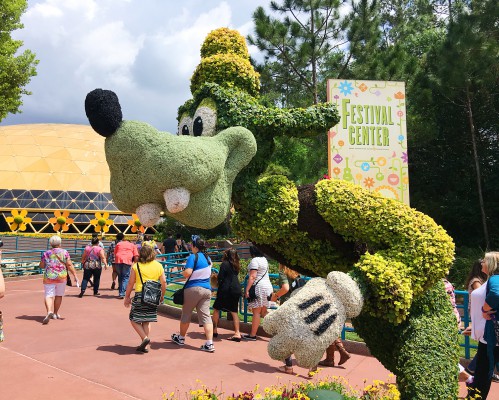 The festival itself runs from March 1 through May 29.  Gardens are no stranger to my kids. My kids go to a nature based learning environment tell school that has taught them from an early age to love gardening and learning about how plants become the food we eat. Not only has that inspired their love for the outdoors it has also inspired them to try new foods and have essentially turned them into young foodies. When we visit the Flower and Garden Festival, not only are we excited about the beautiful scenery, we are also excited about the learning experiences that are offered, but also the fresh tastes from the Outdoor Kitchens! Fresh Epcot is always a win with our whole family!
Here's my list of what you won't want to miss when you go this spring: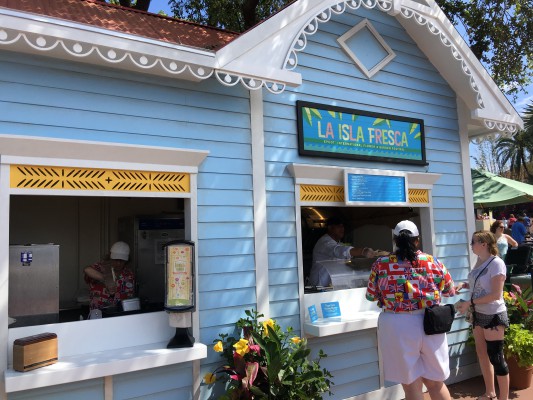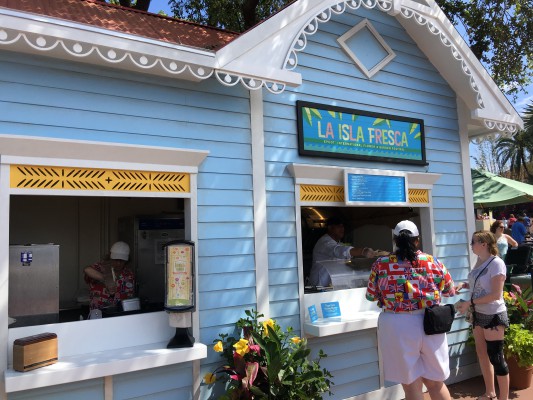 Outdoor Kitchens There are 15 outdoor kitchen (2 brand new ones) at this years' festival that are all serving up delicious, mouth-watering, fresh and healthy chef-inspired bites and are readily available all over the World Showcase! Save your appetite and embark on an epicuriously amazing food adventure around the world!
These are some of my favorite flavors from this year's festival: Try the Founders Rubaeus Pure Raspberry Ale available at The Berry Basket or enjoy the Seared Scallops with French green beans and butter potatoes with brown butter vinaigrette and Applewood smoked bacon located at Northern Bloom in Canada in the World Showcase. My two absolute favorites that you must try. Most dishes are $5-$7 and are single sized portions. Perfect for sharing so you can get double the variety while you stroll through the park.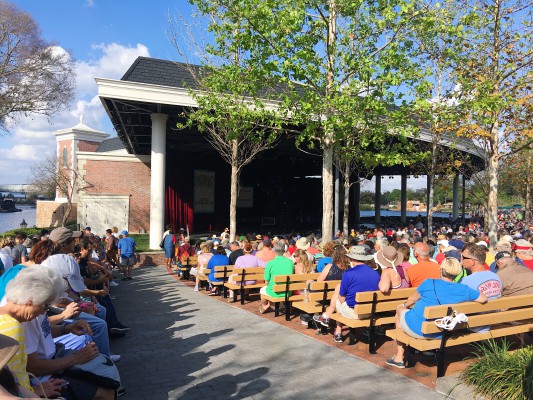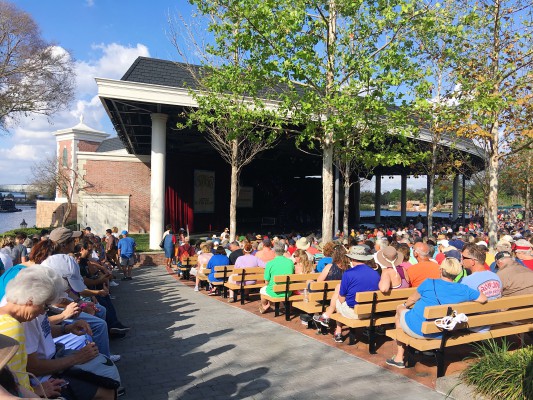 "Garden Rocks" Concert Series For FOUR days each week, there will be three concerts each Friday through Monday with musical talent that is guaranteed to entertain all the generations!  Grab a cold beverage and take a seat in the American Theater and enjoy the show! The line up is amazing! Make you grab something to eat then snag a front row seat to the first show at 5:45pm. There are 3 shows each night: 5:45pm, 6:30pm and 8pm. This is by far one of my favorite parts to my perfect Spring day in Epcot!
Sorin' Around The World You won't want to miss the Soarin' Around the World attraction in The Land Pavilion. You'll be on an adventure around the world with views we could only imagine so beautiful!  Don't miss this one! The recently renovated Soarin' Around the World ride will take you on a journey to far-flung lands, over some of the world's most unique natural landscapes and man-made wonders. It's amazing.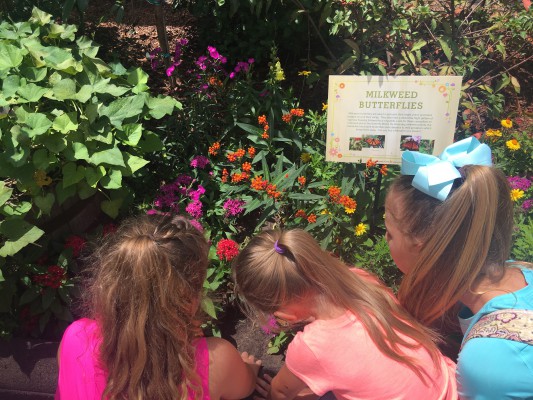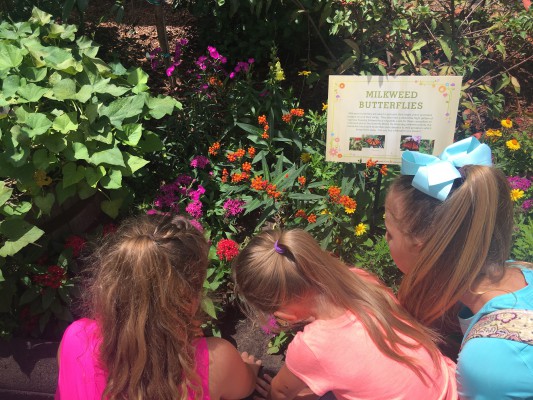 The Butterflies on The Go Garden On your way to the World Showcase, stop into this garden and enter a whole world of pretty!  Pretty flowers and beautiful butterflies are on the go from flower to flower in this enclosed encounter. Watch them land on your fingers or float from plant to plant. If you happen to stop in Saturdays and Sundays, you'll be treated to a free cold snack from GoGo squeeZ, a festival sponsor!  They taste delicious and refreshing on a hot day! My girls loved learning about the life cycle of the butterfly as they could watch them come out of cocoons and flutter away. It's such an amazing garden!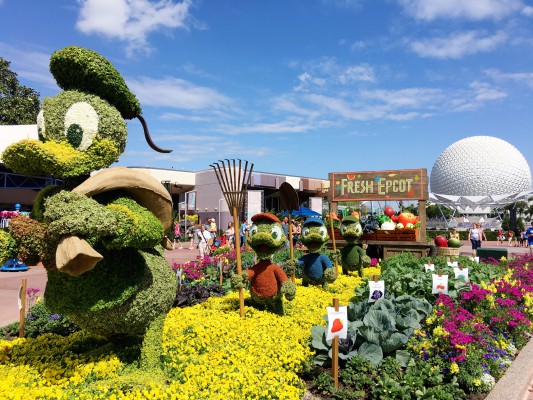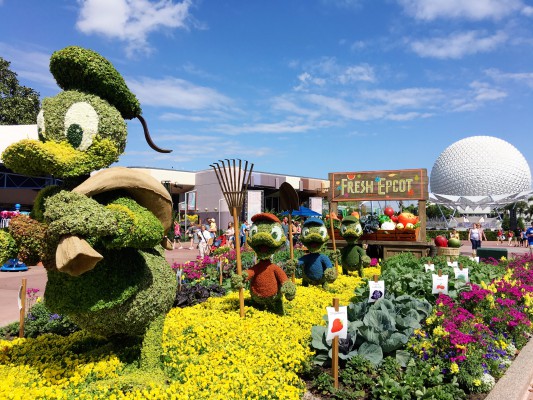 Topiaries Galore!  Be on the look out for the nearly 100 festival topiaries which include up to 70 character creations!  Each one is more beautiful each year!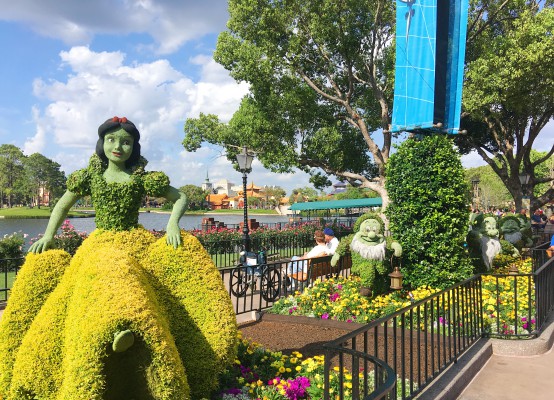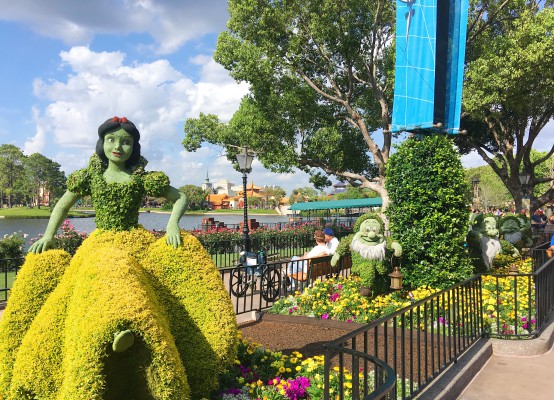 This year, there are a few Princess topiaries (Snow White, Anna and Elsa) will be designed and created with topiary facial features. And there is a new Belle topiary to go along with the Oscar-winning Disney film, "Beauty and the Beast." Belle's yellow ball gown was created with golden blooming Joseph's Coat and Creeping Jenny plants. All the topiaries are real living works of art. They are just stunning!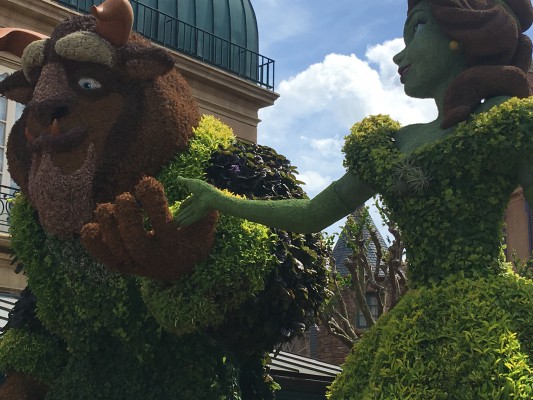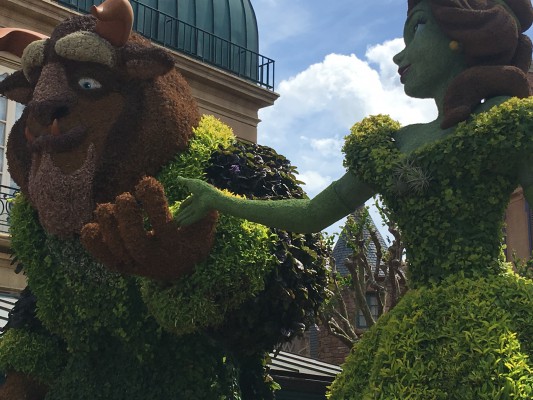 Definitely make time to visit EpcotInSpring.com and enjoy this beautiful scenery while it lasts. Summer will be here before we know it.
I was hosted by Walt Disney World Resort for the purpose of this review. All opinions are my own!