This post has been updated for the most recent tips as of September 1, 2019!
Its Midnight. It's dark. I've got one sleeping and three kids on the Peoplemover. I need a coffee. My kids have had enough sugar to last them until next Halloween. But it's the BEST NIGHT EVER!!
Not so sure the Mickey's Not-So-Scary Halloween Party is for you? Well, this party on Main Street is the hottest ticket in town as it will sell out nightly the closer we get to Halloween. (Did you hear me… SELLS OUT… IN AUGUST!!!) With a limited number of tickets available each night, shorter lines for all your favorite rides, trick or treats galore, themed Halloween shows, firework displays and must-see parades on Main Street, this party is not to be missed! Will you have this Walt Disney World special ticketed event be on your list of must-do's for the season. Not so sure yet?! Still on the fence? Let me give you my top 5 reasons NOT to miss the Mickey's Not-So-Scary Halloween Party.
Buy your tickets early! Click here to buy!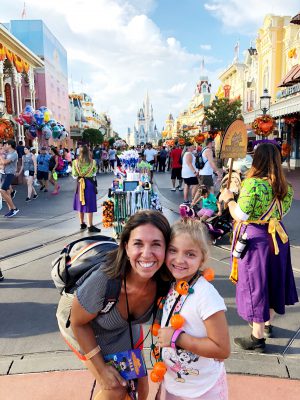 1. It's like a 1/2 price day at Walt Disney World. You can enter in at 4pm and stay until 12 midnight! WIth your wrist band, you can stay into the night and really (well almost) have the park to yourself!! (We rode Dumbo 4 times at 11:59pm!)
2. Less crowds mean less wait. No fast passes necessary. Most fast pass lines aren't even open. The longest we waited was for the Seven Dwarf's Mine Train at about 30 minutes and the crowds thin more towards the end of the night. We had the park to ourselves! Spooky yet VERY awesome!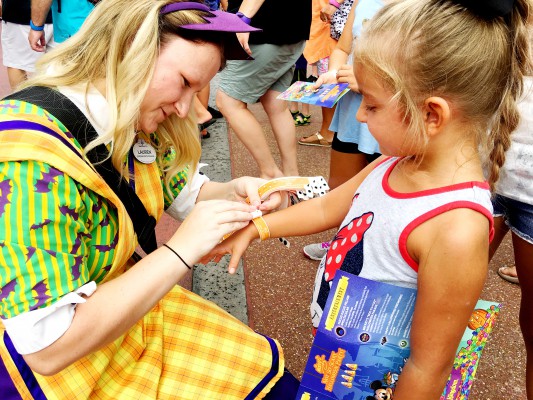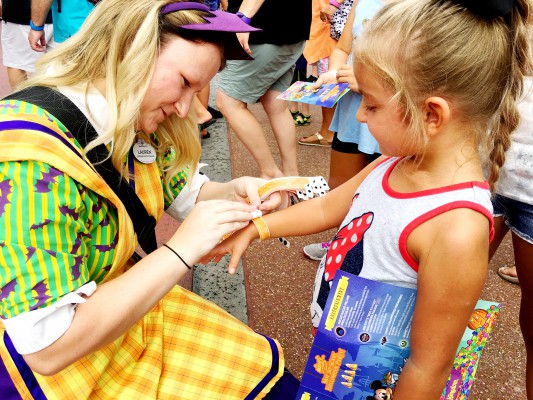 3. It IS fall and it's somewhat cooler… possibly… this is Florida remember. Maybe not on August 17th, but definitely the nighttime darkness is much cooler than any mid-day in July!
4. You totally fit in as a family that's dressed to the nines in a costume… in August or September! It's Halloween! Yes, the actual date might be August or September, but if you love Halloween, then you'll love having an entire night to pretend it actually is Halloween!
5. You make memories they won't forget. My kids LOVE thus night! We look forward to our Halloween BEST NIGHT EVER when it comes around! Now it's a tradition!
And now here are my DISNEY PRO TIPS on how to make the most of this amazing night!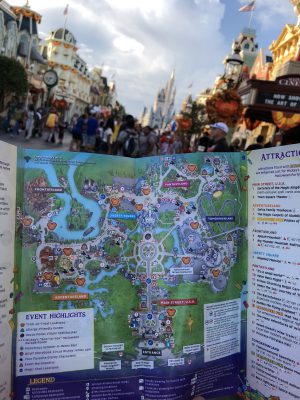 1. Pack light. I repeat. Pack light! Bring a backpack armed with only the essentials- your phone, an extra charger or battery, a small first aid kit (you'll end up needing a band-aidcat some point guaranteed), a water bottle, a spare change of clothes (for the kid you'll know that will need it, ponchos, and a few snacks. If you don't need a stroller, don't bring one. If you do, be organized because you have the fold it down to ride the tram from parking to the entrance. And plan to eat at the park! We get in early as the crowds are still heavy from the day, and eat and people watch! Then we start to enjoy the night one treat at a tune! They have so many fun NEW Halloween treat options each year that it's fun to splurge on these special treats for this special occasion!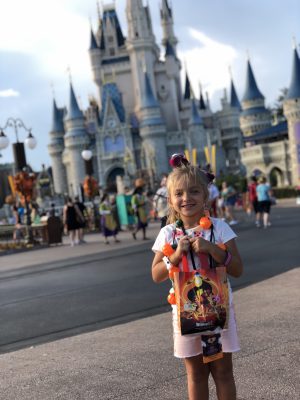 2. Arrive at 3:30pm and be ready to enter the park at 4pm! Arm bands are given to guests at the gate entrance and non-event guests are directed out of the park at 7pm. Yes, it is still quit busy from 4-7pm. We got something to eat and waited until 7pm when the crowds left to start riding the rides. It was perfect! (The Magic Kingdom closes early for the day so unless you have a wrist band and special ticket, you will be asked to leave the park.)
3. Bring ponchos- from Target… or home. Just buy them. Don't open unless needed. It's cheapest and you'll be prepared. And check the weather before you leave the house! This is Florida and weather can change on a dime!
4. Buy your ticket early and come early. They DO sell out. And what was available yesterday will be gone tomorrow. It will sell out on most nights. It get the most bang for your buck, arrive with your ticket already added onto your My Disney Experience app and get into Magic Kingdom at 4pm! Yes, the Not So Scary party starts at 7pm officially, but you'll be able to enjoy a few rides, maybe get dinner out of the way before the park officially comes alive! Also- certain night are more/ less expensive so check your availability!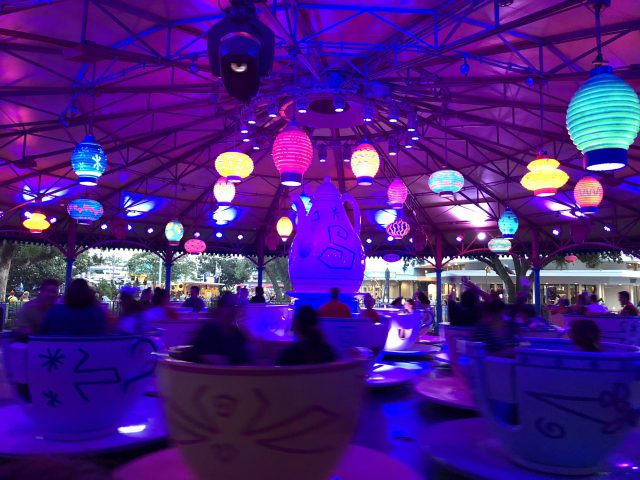 5. Have a loose plan- figure out what rides they definitely want to hit first. The lines are WAY shorter at 10pm and after, so plan to stay later and close down the park with the kids! Yes, it's a long night but staying on property at Walt Disney World might make it a fun (and super quick) trip home!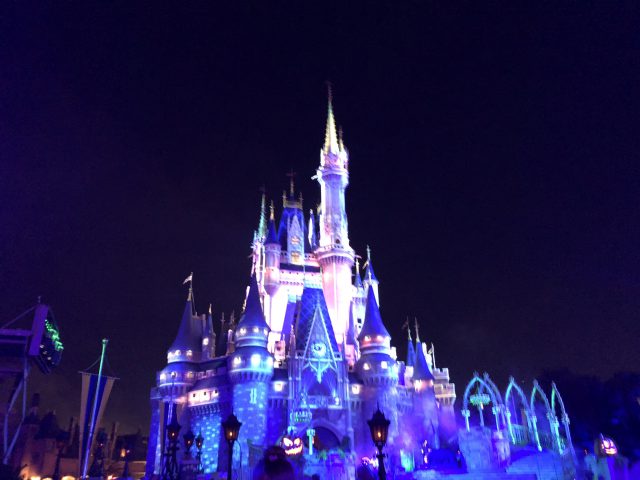 6. Bring a stroller and PJ's if your little one will sleep in the stroller on the way out so your big ones can enjoy just a little more. And an extra poncho just incase this happens, because you know it will when you aren't prepared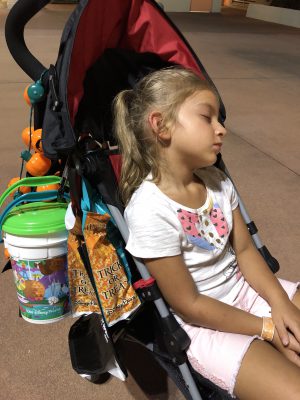 7. Make sure to look at the schedule! We wanted to see the Hocus Pocus Villain Spelltacular and also the Boo-to-You Parade but I knew we would need to see the first show to as my preschooler was bound to be asleep by the time the last show came around! Just take a look at the map and the show schedule so that you can make a loose plan to see what you want to see!
8. Bing a larger bag for all the treats! They do give you a rather small bag and as the night goes on, you will definitely get more treats to fill that bag!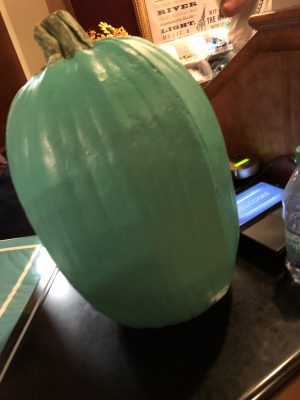 9. If you child has an alergy or dietary concern, make sure to stop at City Hall on the way in to grab a "teal pumpkin" bag! They can go around to all the treat stations and snag a teal coin that they can then redeem for a "special" treat just for them at the 2 locations where the teal pumpkin is on the map! At these stations, you can browse through a menu and see what will work best! Fo my newly diabetic daughter, THIS WAS HUGE!!!! We loved the sugar free candy, the GoGo squeeZ and the arts and crafts we got! THANK YOU!!!!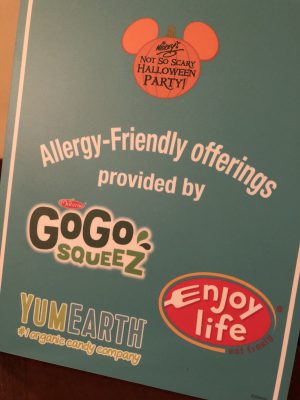 10. Enjoy Halloween as a kid. The decorations, the music, the not-so-scary- part of Halloween made us LOVE Halloween at Walt Disney World and we will be back every year to celebrate!
New to this year's event are the following you WON'T want to miss:
The Mad Tea Party will feature new lighting and effects!
The Pirates of the Caribbean ride will host some real live pirates!
Space Mountain has an AMAZING new soundtrack!
In Storybook Circus, there is a new Storybook Circus Disnye Junior Jam!
As always, Hocus Pocus Villain Spelltacular will return to the stage at Cinderella's Castle with the Sanderson Sisters conjuring up a magic potion to cast a spell on all the guests!
Disclainer: I was invited to participate in the media night event at the Mickey's Not-So-Scary Halloween Party! Tampa Mama is Disney Partner and all opinions are honesty and my own!