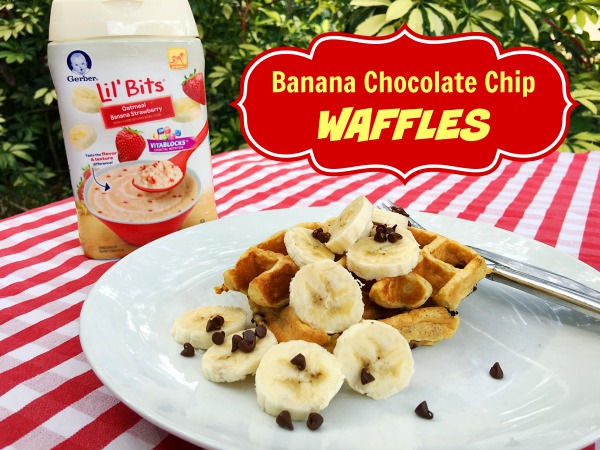 Who doesn't like bananas and chocolate?! And combined with a secret ingredient that makes it a healthy recipe, makes this entire breakfast that much sweeter. I recently babysat for a cutie pie and her Mom left me baby food for the week. I haven't had an actual baby in the house for a while and when the little one left, I was left with a few ingredients that I didn't want to go to waste!  I have been getting creative in my cooking these days and quite resourceful when it comes to making meals with ingredients that I have on hand. Knowing that Gerber products have always been a brand in my home that made me feel good about feeding my kids, not just baby food, but the best food to help them grow strong and healthy.
My kids aren't eating "baby cereal" or "baby foods" anymore. We cook together as a family and I try my best to get the kids eating an array of foods that combined will filled with all the vitamins and nutrients that they need daily. Adding in a little Gerber cereal into a few recipes will only make them healthier and shhhhhhhh, they will never know! The cereal is iron fortified and the key to healthy growth and development. So adding an ingredient like Gerber cereals, into any recipe can only make it better, all around.
Gerber cereal products can easily be substituted into recipes as a binding agent. I have seen mashed potatoes, pizza dough, blueberry cream cheese coffee cake, oatmeal cookies and more!  Taking recipes and making them healthier always makes me feel great about the meals I cook for my families.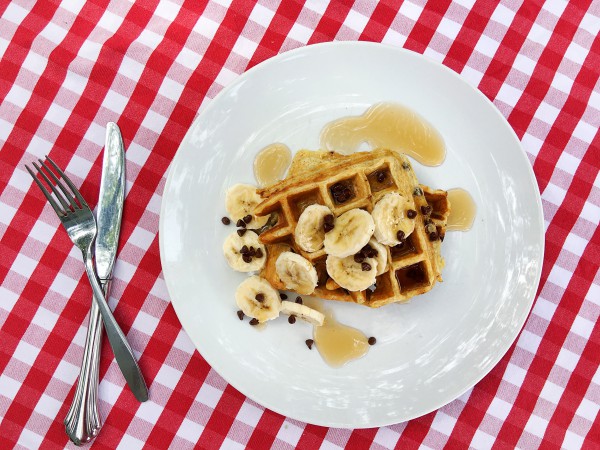 Cooking with Gerber cereals and realizing the possibilities of incorporating a more healthier meal for my family has opened up my eyes to realizing there are so many ways to cook healthier!  Gerber products have endless possibilities as I was browsing through the baby food isle the last time I was in Walmart. My mind kept racing with new ideas and new places I could make my meal just a little healthier.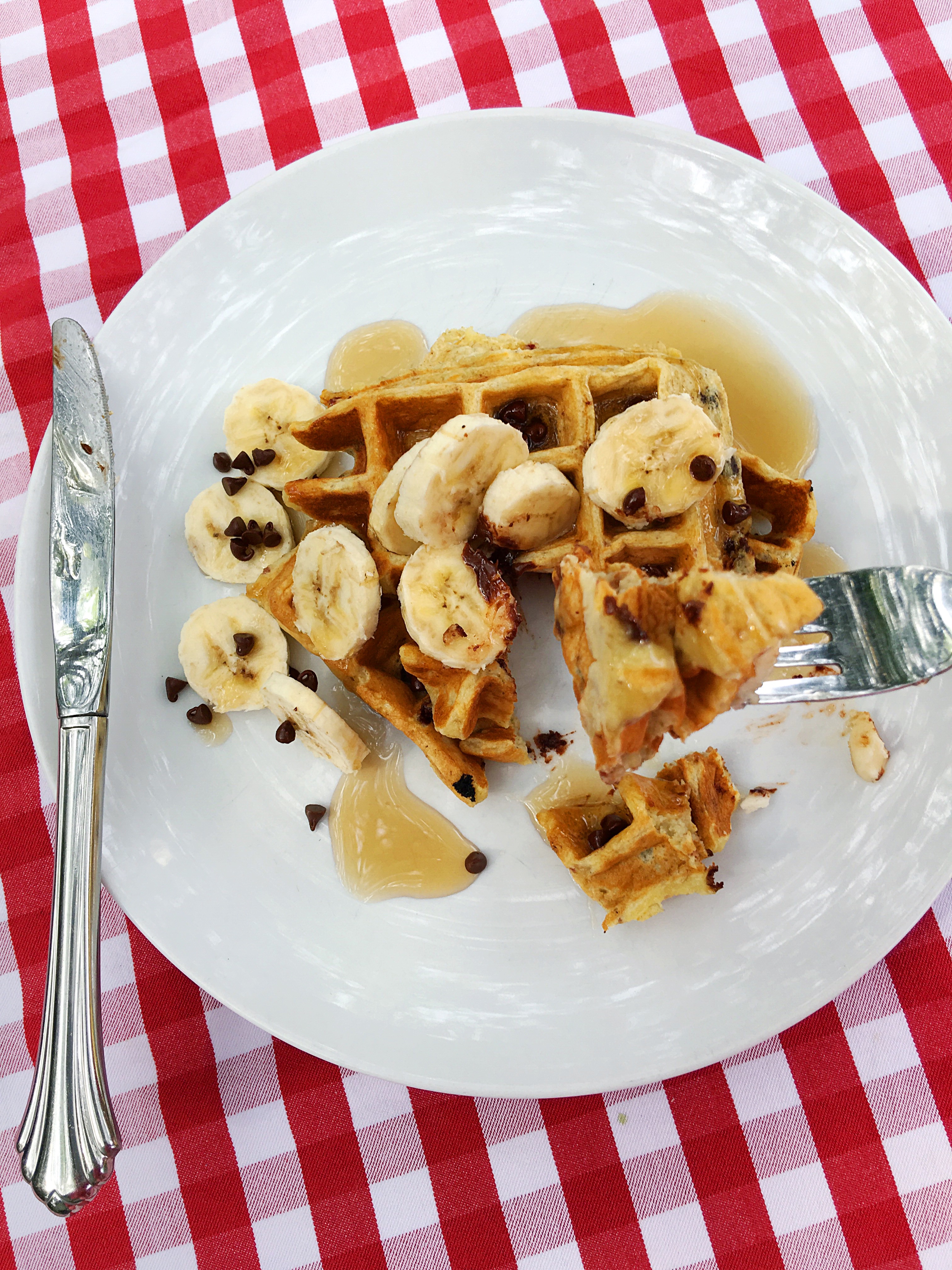 My kids and I cook regularly. We love making breakfast! Waffles and pancakes from scratch are our favorite!  We are always adding new twists on our favorite meal and this was a perfect way for us to make a new recipe (that will be a returning guest I'm sure!) These turned out better than I ever imagined! The bananas and chocolate were a perfect pair to add to this delicious breakfast. It was a sweet and healthy breakfast that my entire family loved.
Banana Chocolate Chip Waffles
Ingredients
1/2 cup flour
1/2 cup Gerber Lil' Bits Oatmeal Banana Strawberry Cereal
1 egg
1 cup buttermilk (or 2% milk with 1/4 tsp of lemon juice- let set for 5 minutes)
1/2 tsp vanilla
2 tsp baking powder
1/4 tsp salt
1/2 ripe mashed banana
non-stick cooking spray
Maple Syrup
1 banana
1/2 cup mini-chocolate chips
Instructions
Pre-heat the waffle iron.
Mix all dry ingredients and set aside.
Separate the egg.
Mix the buttermilk, vanilla, egg yolk and ripe banana.
Whip the egg white.
Mix the dry ingredients and the wet ingredients.
FOLD in the egg white.
Spray the waffle iron with the non-stick spray.
Spoon or pour the batter into the waffle iron, sprinkle the chocolate chips on top of the batter and cook according to the manufacturer's instructions, usually for 2 to 3 minutes.
Add sliced bananas and sprinkle chocolate chips and syrup on top to taste.
https://adventuresoftampamama.com/2016/06/14/banana-chocolate-chip-waffles-giveaway/
And this is what will be left of your amazing breakfast. Better make enough to feed the army!  Giving my family healthy food that they love is what makes my heart sing. I hope your family will enjoy this meal as much as mine did. And don't forget to enter the below giveaway for a $50 Visa Gift Card!
#CookingWithGerber & Tampa Mama Giveaway

#CookingWithGerber & Tampa Mama Giveaway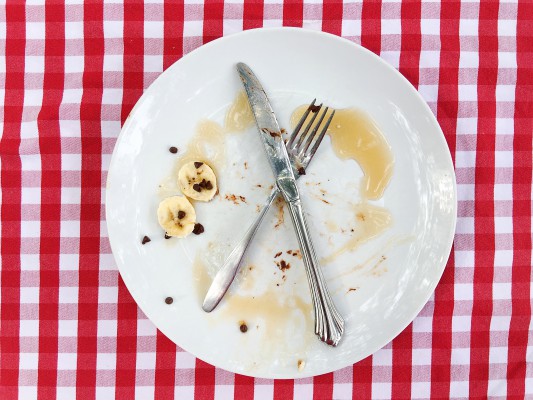 I am excited to partner with The Women Bloggers on this #CookingWithGerber sponsored campaign. All opinions are my own. Thank you for reading and supporting Tampa Mama.