Do you know how to spa? Like REALLY Spa? Well, of the answer is no, like me, you'll want to become familiar with The Grand Beauty Spa. I have driven on Kennedy Blvd., over a million thines, but have never stopped and the beautiful bungalow on the north side of Kennedy. But today I stopped. And I can't believe that I haven't stopped in the 10 years that have been there. Not any more! I will now be going back VERY often!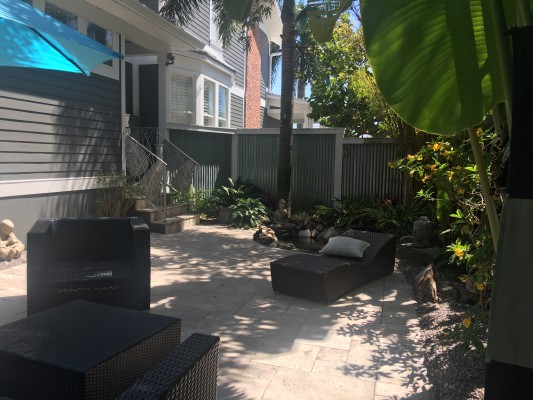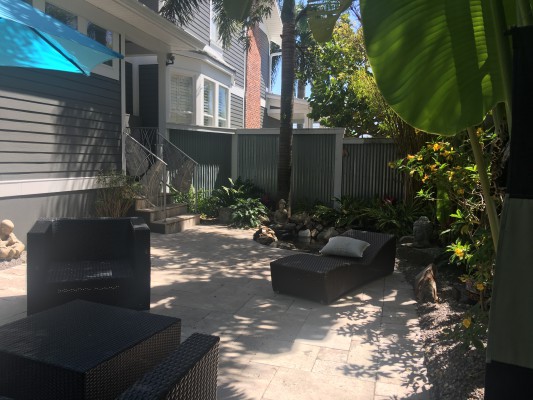 The Grand Beauty Spa is a Luxury European Day Spa in Tampa, Florida. It is a flagship spa for Thalgo Laboratories of Paris, a true innovator in health and beauty while preserving our natural resources and eco-system. (I splurged with Grand Facial that began with Thalgo's "Discovery of the Sea" massage to ease tensions and let me tell you…I was glowing after this treatment!) The Grand Beauty Spa specializes in custom treatments featuring cutting edge technology and first rate professionals in a five star atmosphere. You feel like you have stepped into paradise and it's relaxing atmosphere and ambiance will have you wanting to come back often for an escape. Services include facials, massage, body treatments, face and body depilation, manicures & pedicures, haircuts & styling, color treatments, hair & eyelash extensions, make up application and a suite of medically supervised Medi-spa services. And the free steam and sauna therapies are also available to customers and spa members.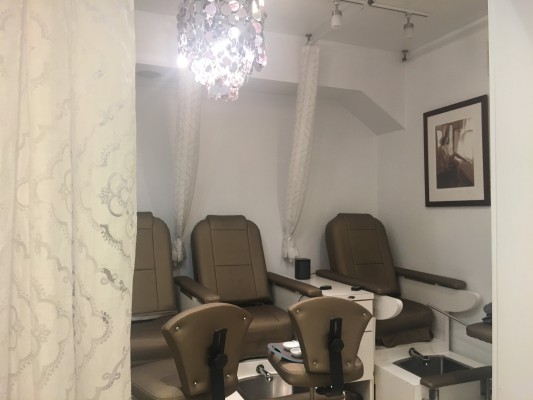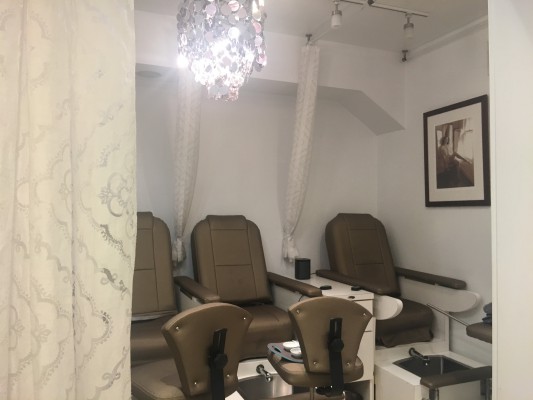 I was reminded how important it is to take care of me. With four kids, a job, daily life is hectic and I often forget that I need to take care of me as well as everyone else. My visit was a healthy reminder that not only is nutrition and exercise important, but so is taking care of me. My skin. My mind. Me.
They have a saying "we will teach you how to spa." When I heard that, I started to think, yes! I really don't know HOW to spa. What are the rules? What should I do first? What is best for my skin. My face? I'm not into the medical procedures, but I would LOVE to learn from people who do this for a living! The true professionals! So I did just that. I asked questions. I learned. And I can't wait to continue to learn HOW to spa and take care of me.
Bonus! I have a discount code that you can use at the Grand Beauty Spa to save 10% off services. Use discount code: TAMPABLOGGER and get 10% off services at The Grand Beauty Spa here in Tampa.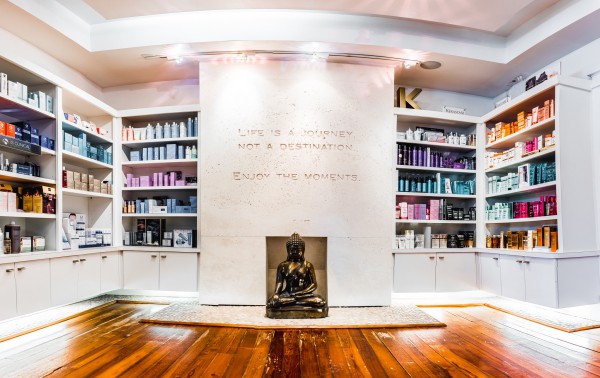 Just like you join a fitness club to take care of your body, The Grand Beauty Spa offers you the opportunity to take care of YOU! This makes perfect sense! They offer a variety of memberships based on your needs and truly take care of YOU! Grand Beauty Spa understands the importance of a beauty regime and maintenance. It's important to remember to take care of yourself and with a membership, you won't forget to take care of you.
All Grand Spa Memberships Include:
* Unlimited use of Infra-Red Sauna, team Room and Relaxation areas
* Monthly applications of customized Keratase
* Shu Uemura Hair Masque with Complimentary Detoxifying Peloid Mud in our Steam Room
* Membership pricing on select services
* 10% discount for Med Spa, Salon and Retail
* Monthly Yoga Classes and Grand Goddess Ceremony
Giveaway!
GRAND BEAUTY SPA'S #MYHEROMOM PRESENTED BY TAMPA BAY PARENTING MAGAZINE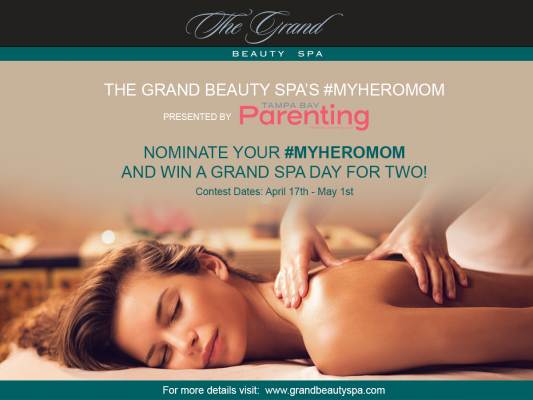 Nominate your #MYHEROMOM and WIN a Grand Spa Day for Two!
Moms come in many shapes and sizes. There are step-moms, foster moms, adopted moms, grand-moms, teacher-moms and of course Moms. This Mother's Day, The Grand Beauty Spa wants to celebrate our Hero Moms.
Tell us about your hero mom and why she inspires you: Is it her kind-heartedness? Her bravery? Her selflessness? Her sacrifices? It could be your mom or someone else's mother. Tell us why your #myheromom is so special and you could win a Spa Day for Two from Grand Beauty Spa and Tampa Bay Parenting.
They're certainly not looking for the perfect mom (because none of us are) but we'd love to hear about it! They'll share some of our favorite entries around Mother's Day.
Enter the #MYHEROMOM Contest HERE
* You'll have to answer the questions and enter an optional story in 300 words or less.
* The panel of judges will pick three winners. The winning Moms and guest will be treated to a Spa day on Saturday, May 13th. The 2 runners-up will each receive a $100 gift card to Grand Beauty Spa. So make it an extra-happy Mother's Day in your house this year, and send in your entry! All five winners will be published on www.grandbeautyspa.com
* Please include a photo of yourself and/or your hero mom.
* The contest begins April 15th and will run until Monday, May 1st at 10 p.m. (EST). They will contact the winner(s) by noon on May 5th.
Make sure to follow them on Facebook for new monthly offers too! And they do turn 10 this year and on April 27th, they have special $99 services!  Hop on over to their Instagram account to learn more!
Thank you to The Grand Spa for showing me how to spa. I did receive a complimentary service but all opinions are always my own.