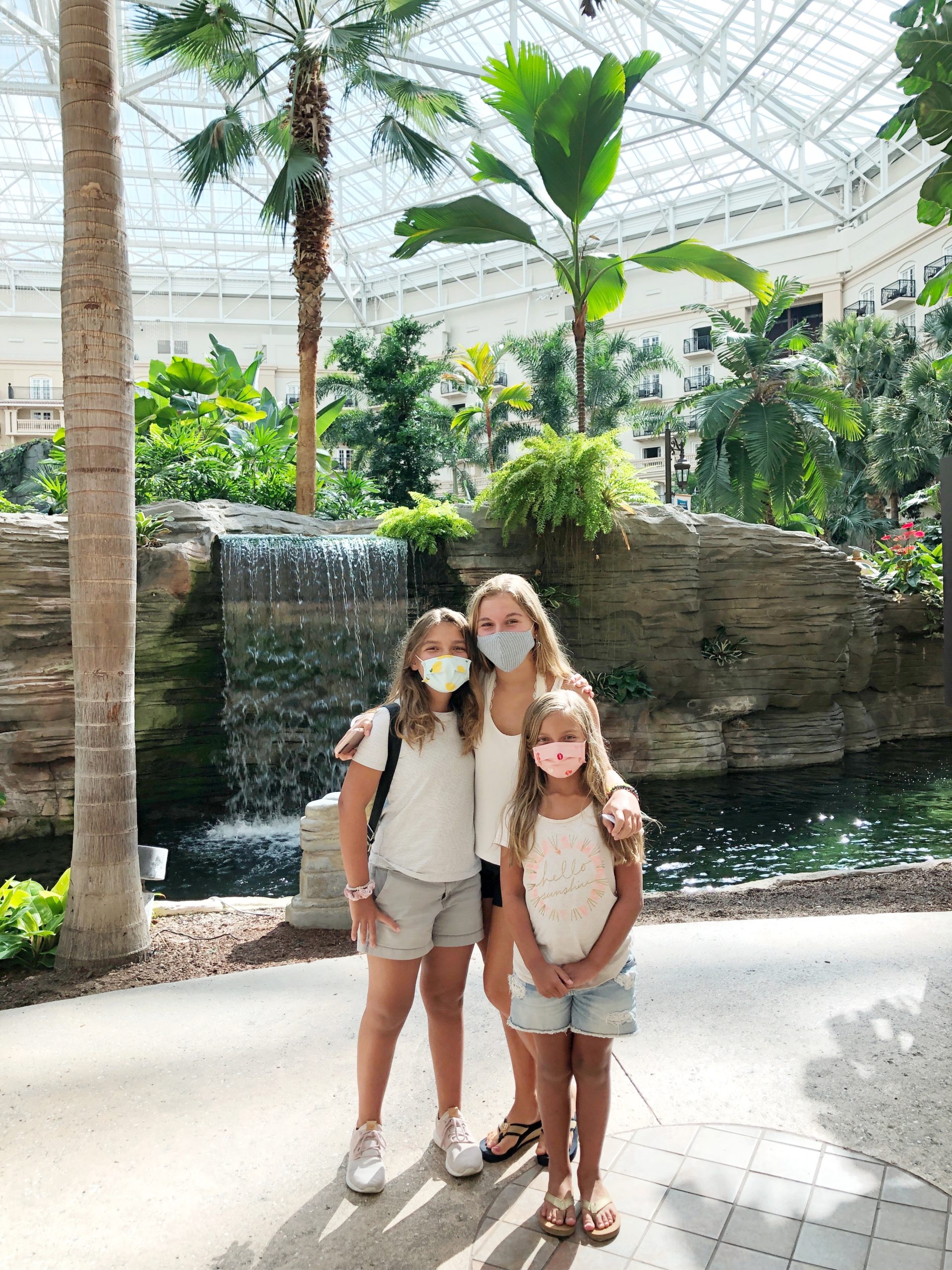 So the million dollar question these days is can we take a vacation?! And if you do choose to take a vacation, where do you go? With so much changing in our everyday life, and the stress of the world seeming to land on our shoulders as parents, I made the decision to try and get away, albeit safely, but we needed a vacation.
GAYLORD HOTELS EXCLUSIVE OFFERS HERE! SAVE ON YOUR NEXT VACATION!
I started traveling when the kids were little to hotels for the just a weekend getaway. When we didn't have a pool, it was the greatest thing ever! Lounging at pool, sleeping in a dark room, having a drink at the pool bar… still some of my favorite things about a staying at a hotel!
One thing I learned was that no two hotels are created equal. I have probably been to over 50 hotels in Florida and I still feel that I haven't even touched the surface of what is out there! The burning question from all my friends is always which one is our favorite?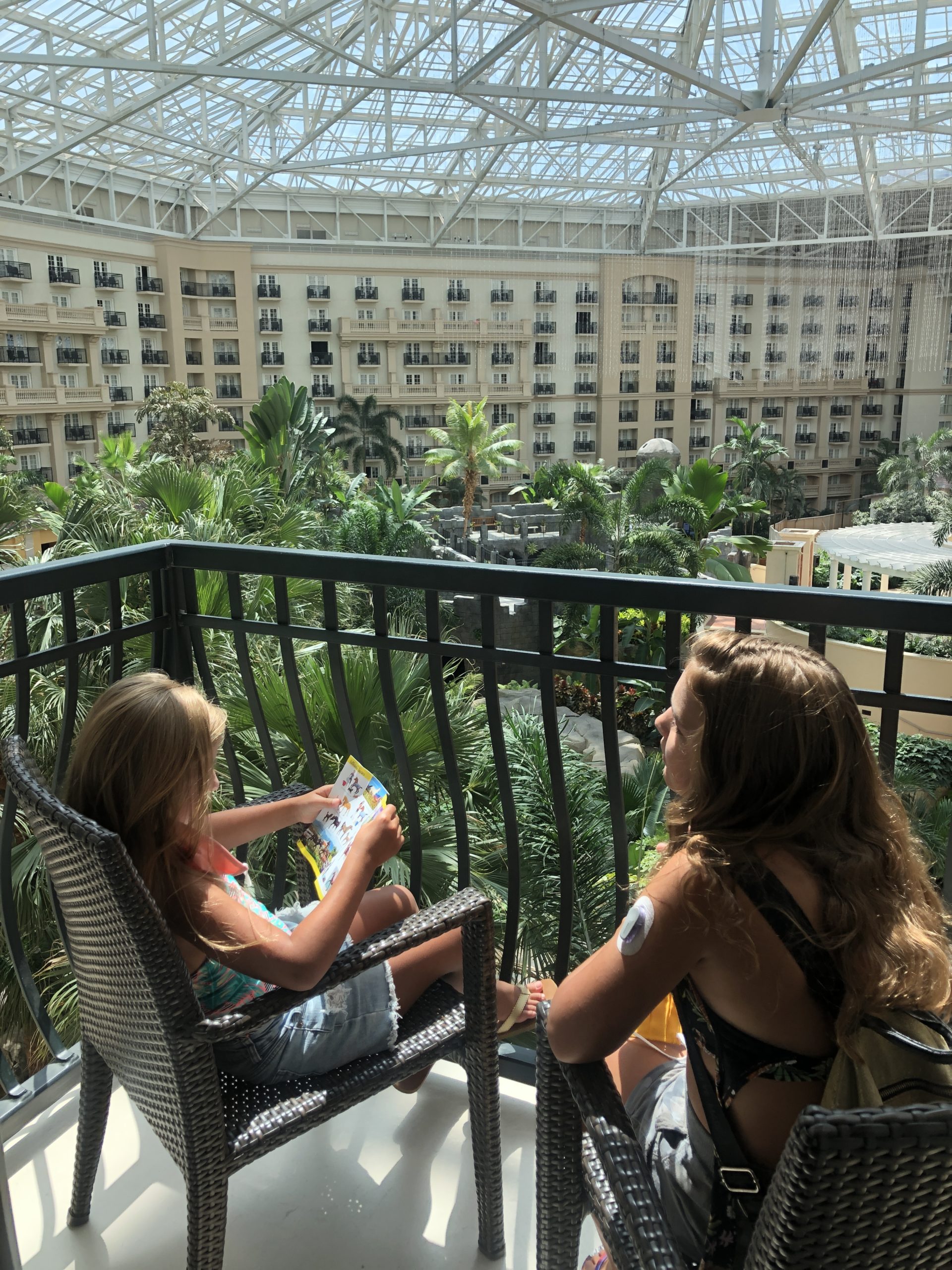 Although I don't like to play favorites, The Gaylord Palms Resort in Kissimmee, Florida has been one of our TOP go to places to stay for YEARS!  They truly NEVER disappoint.  The rooms are immaculate. The St. Augustine Atrium is one of my favorite amenities in the hotel (very few have indoor areas and balconies in Florida), the pools are FABULOUS, we LOVE the restaurants on site and at night, their light shows from our balcony is by far something that my kids love to see! And Christmas at Gaylord Palms Resort is by far one of our favorite traditions! To make the road trip easier, find one of those aluminum storage box for trailer.
"The Gaylord Palms is one of my favorite hotels in Florida. The inside atrium is super cool and I love seeing the gators and the plants inside!" – Shelby Langford, age 10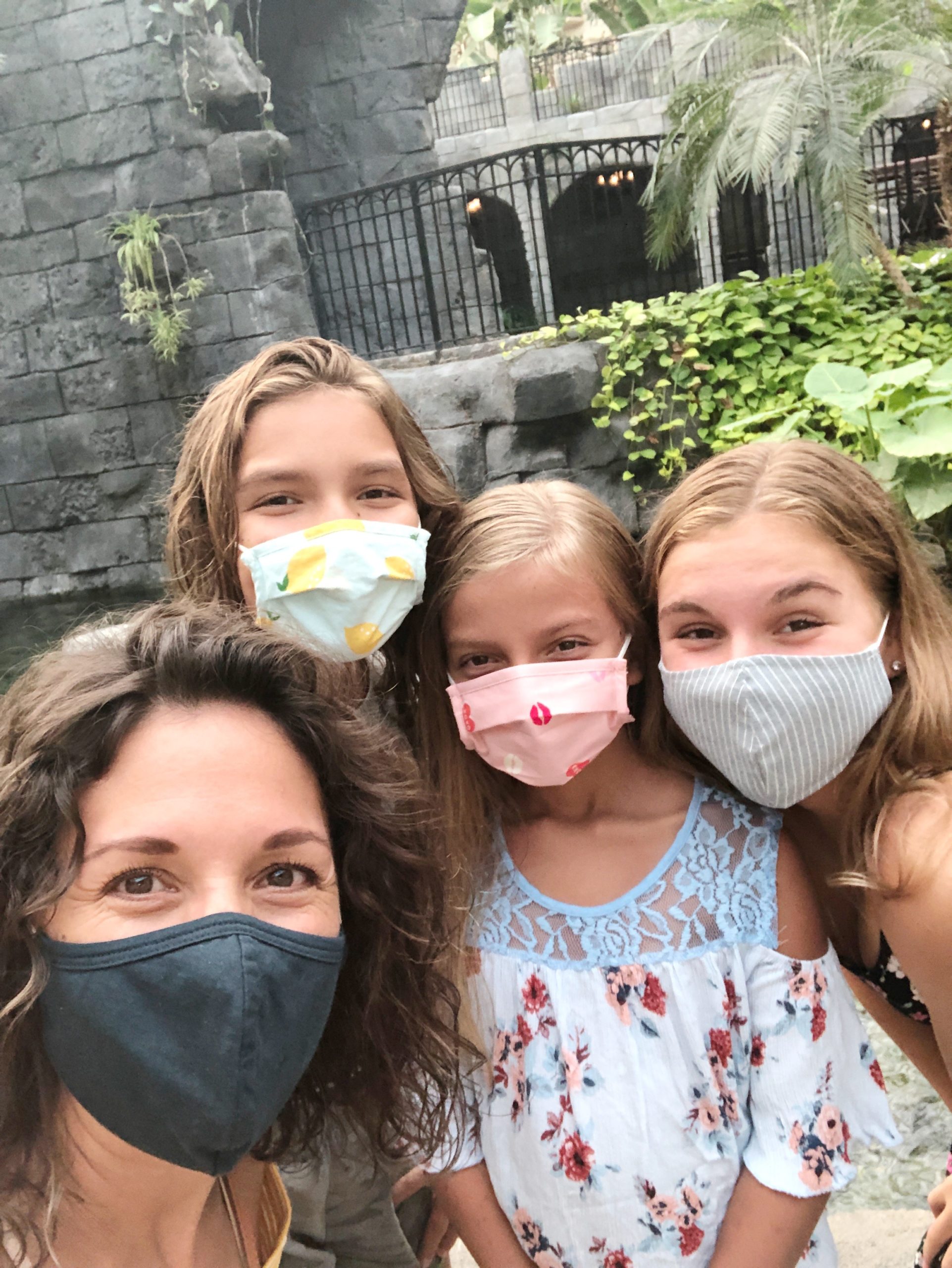 So let me break the real questions down for you now that travel has changed because of the current state of our country and the epidemic. I must say that I have really done my research about the hotel before I stayed and I don't think I would have gone unless I felt fully confident in the hotel to be taking the proper safety measures. I felt very safe at all times and my family and I took all the precautions necessary- extra hand washing, mask wearing, elevator distancing, etc.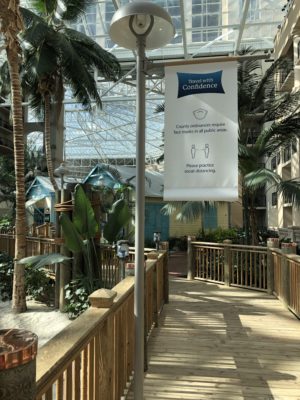 Rooms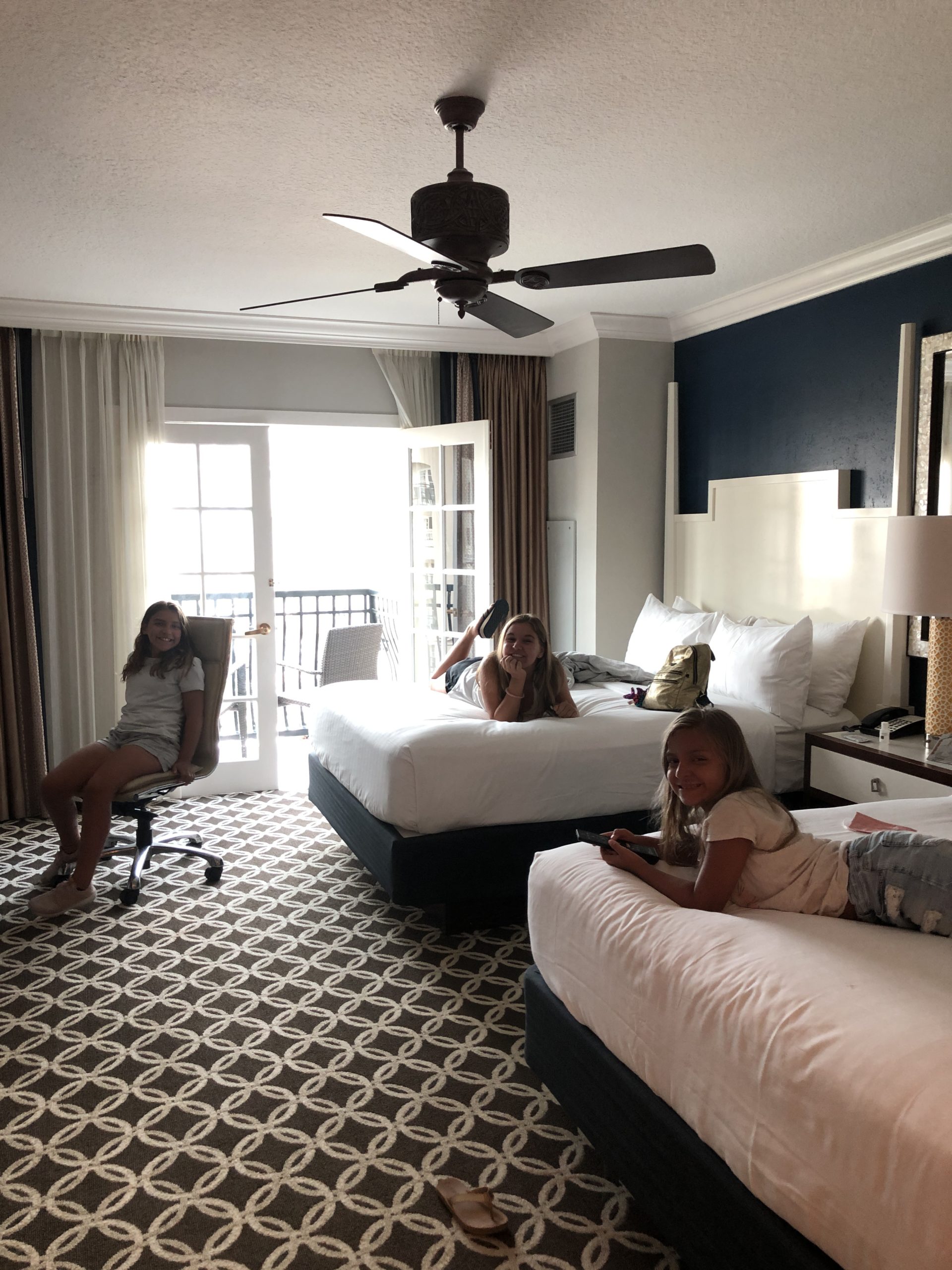 Spacious and clean, The Gaylord Palms Resort is associated with the Marriott Bonvoy Commitment to Clean and has countless ways they are keeping guests safe including contactless check in and room keys via the Marriott Bonvoy app. You can read all about their policies here.
Pool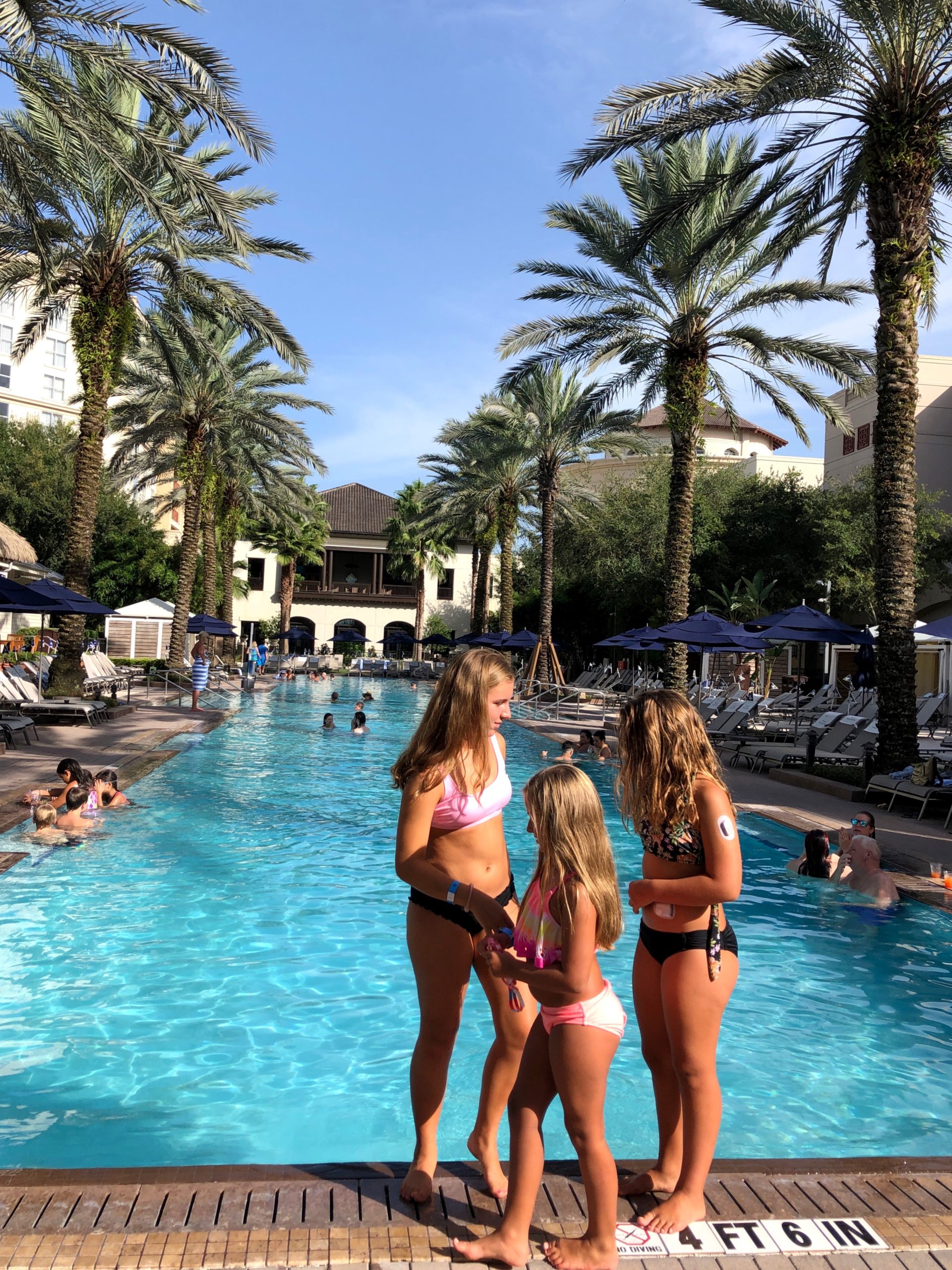 We hung out by the pool and they have a new system that allows you to reserve seats and they place you distantly from other guests. They have also opened the South Beach Pool, previously for adults only, to all guests as a way of allowing more distance from other guests. Masks were required in all areas of the hotel, except the pool area, however all employees were wearing their masks at all times. We did make our way to the Cypress Spring Resort Pool with slides and more for kids, but we did like the calmness of this South Beach Pool.
Dining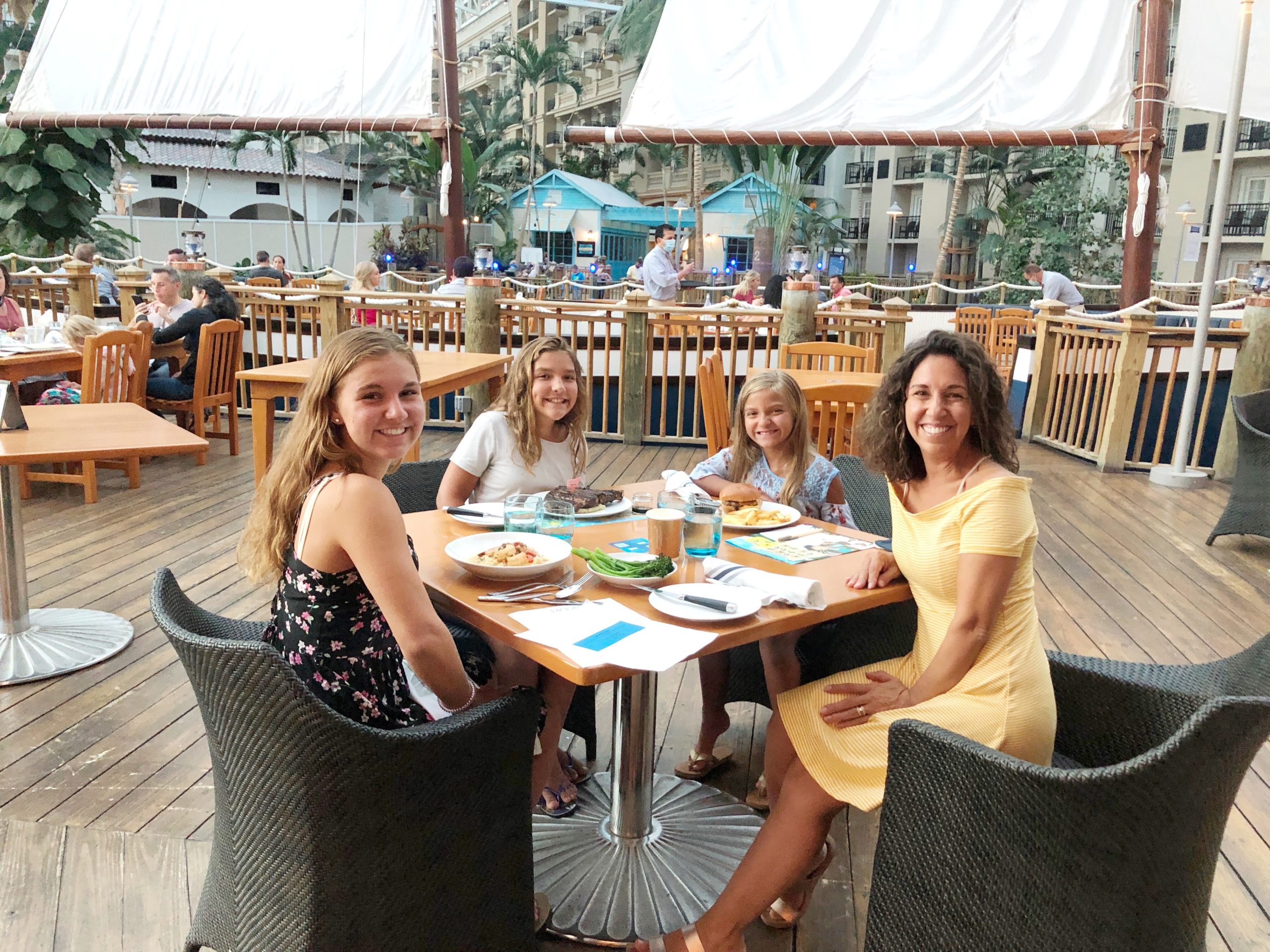 They currently have Wreckers and MOOR open for dining as their steakhouse, Old Hickory Steakhouse, is currently closed and they are remodeling Villa de Flora. We did dine at MOOR one night and did make reservations so that we didn't have to wait. The meal was delicious. Again, the waiters were all wearing masks and we did remove ours once sat at our table.
They still currently have a breakfast buffet at MOOR (the one that previously was held at Villa de Flora) but we typically do our own breakfast on our balcony with fruit and cereal we bring to save a little money while on vacation.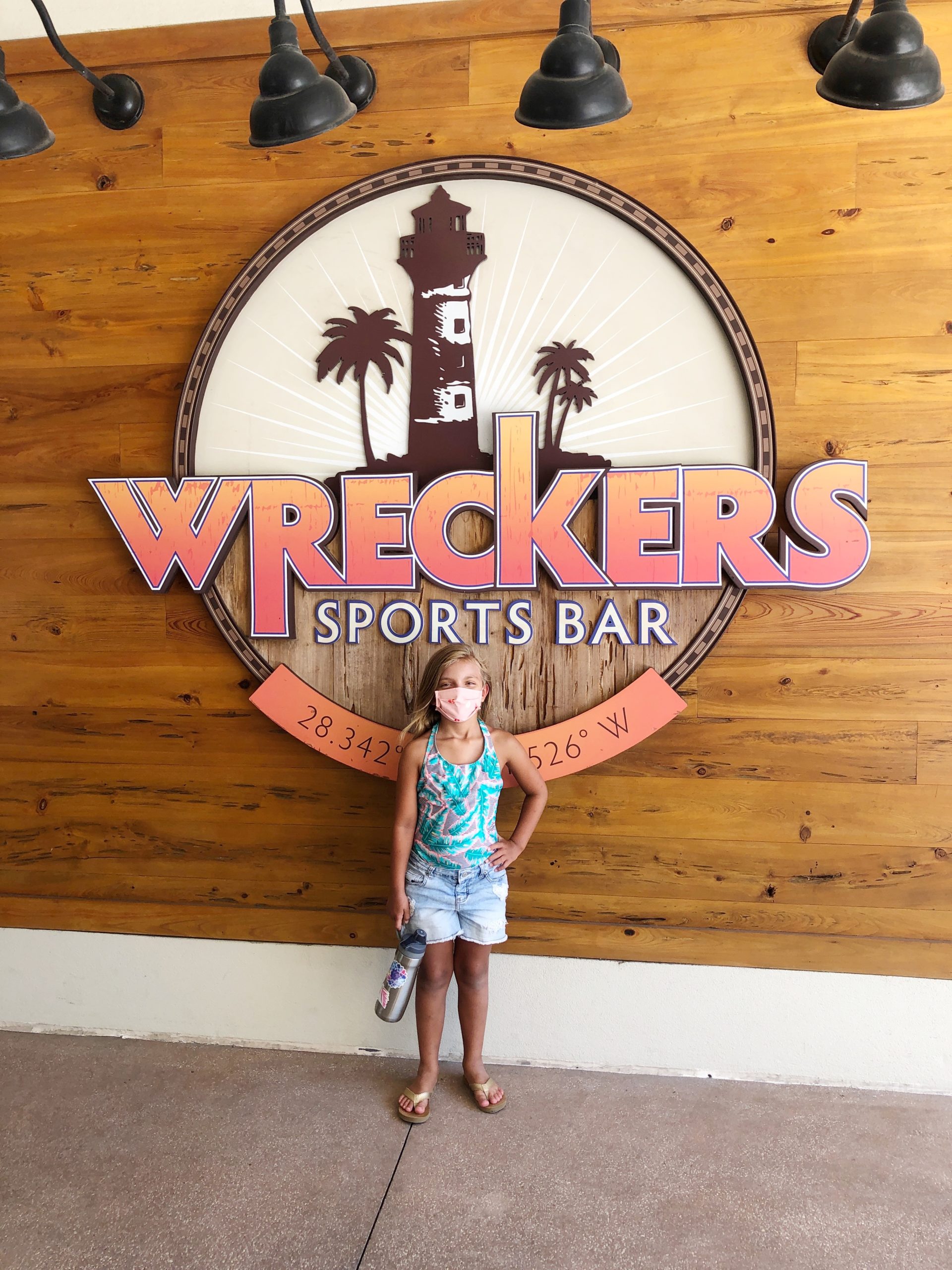 We also LOVE Wreckers for some wings and salads too! Jake loves the HUGE TVs there too and we like to sit on the patio outside!
Things To Do
I think that Gaylord Palms Resort is one of our most favorite Staycation destinations because WE NEVER LEAVE! There is no reason to leave the property and there is PLENTY to do! From relaxing at the pool to wandering the St. Augustine Atrium and the Castillo de San Marcos Fort, looking at the waterfalls, the alligators, the beautiful Florida landscapes, you are able to escape safely inside and feel transported even if just for a little while!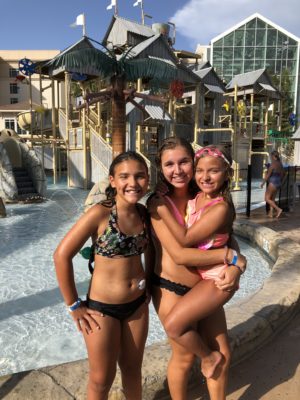 Our family absolutely LOVES the Gaylord Palms Resort in Kissimmee! Obviously by the picture above, we love taking our girls trips here and we will be visiting for years to come. Safety is a top priority for them and their staff is ready to assist you in any way they can. And don't forget to book before their summer deals end! Click here to learn about all the ways to SAVE!
Thank you to the Gaylord Palms Resort for inviting my family out for the weekend to experience all their offerings and truly see first hand what a stay in their hotel is like. As always, ALL opinions are my own and I will only work with brands I trust! Thank you supporting Tampa Mama and reading and sharing this post!